The Best CNC Milling Machines :
Our Comparison
The 4 compared models

You would like to acquire a CNC milling machine and would like to have a quick overview of the best machines on the market? To make it easier for you, we have compared the 4 best professional CNC milling machines on the market at the moment, with a similar useful working area and price. You will also find a summary table comparing the specifications and options of each machine at the end of this article.



Stepcraft Q.204
The Q.204 is a good machine in the long Stepcraft catalogue. Its construction is robust: the uprights of its gantry are made of 5-layer steel plates, the frame of the worktable is reinforced by six aluminium cross members and it moves on Ø 20 mm steel shafts. Its rapid movements are carried out using ball screws (on X and Y) at a maximum speed of 10,000mm/min, more than sufficient for a machine of this size.

Its Z-axis is equipped with six T-slots for the attachment of different tools, which can be chosen from a wide range of tool heads (laser, vinyl cutting, 3D printing, etc.), making the machine rather versatile. Finally, the machine is delivered fully assembled after having been checked by a technician, guaranteeing a quick and safe start-up as soon as the machine is received.

We like less the large number of essential options that have to be added when buying the machine, not included in the basic price. Indeed, you will need to add a computer (+500€ approximately), control software (+167€), a good quality spindle (+335€) and an MDF work surface with grooves (+160€). Add to this the delivery costs (+200€ for Belgium), and you end up with a total of 5,816.00€ excl. VAT to get a usable machine. Furthermore, the control software supplied, UCCNC software, is quite disappointing with its graphic interface which is not very intuitive and not visually appealing.

Pros
machine already assembled
linear guides protected by slides
many possible options to customize the machine

Cons
incomplete basic package and a higher price at the end with for the configured machine with necessary options
no ball screw on the Z-axis

MillRight Power Route XL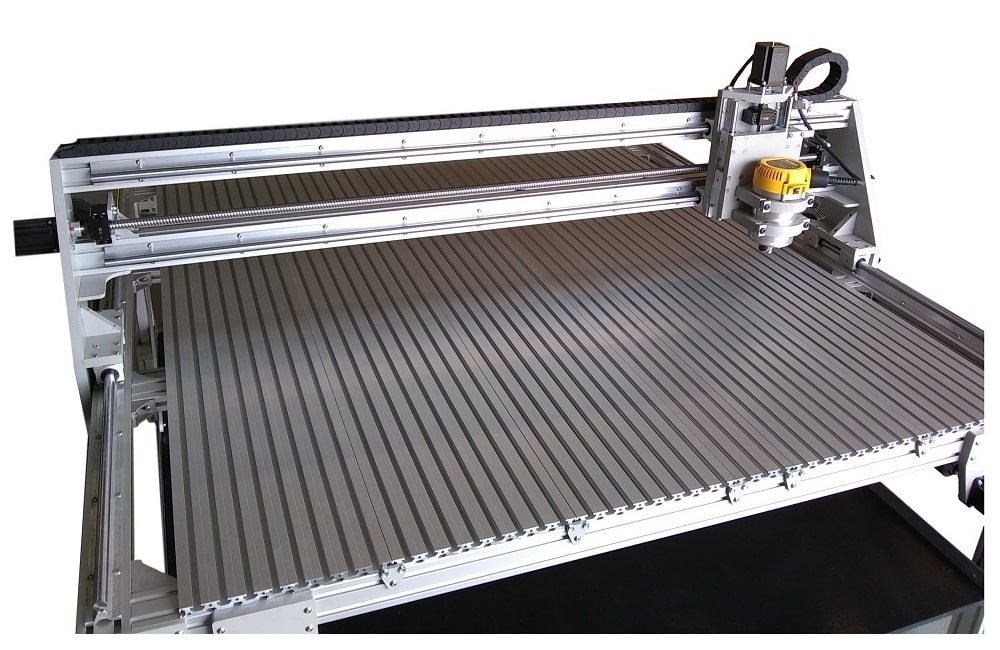 The largest machine in the range from MillRight, an American manufacturer selling CNC milling machines with a very good quality/price ratio. This machine has a working area of 1250x1250mm, but remains rigid enough to cut hard metals. Its robust and well-designed construction allows high material removal rates, ideal for production or small series.

It will be delivered almost fully assembled (95%), factory tested and already mounted on a worktable, which is a nice feature.

The basic package is very complete and also includes a laptop with already installed controller software, a 1.7 kW Dewalt spindle and a sturdy table made of grooved aluminium profiles.

Pros
very complete basic package (computer, spindle, table,…)
preassembled machine
large working area relative to the price

Cons
manufacturer located outside of Europe
potentially expensive machine after delivery fees and custom taxes
CNC-Step High-Z 1000/T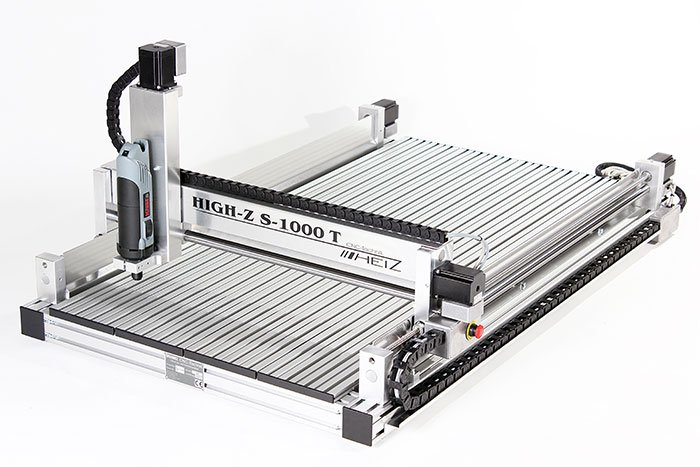 The intermediate machine of the High-Z series from CNC-step. This model has a smaller working area than the other machines of this article, 1000x600mm, but compensates for this disadvantage with a working surface that can be opened from below, allowing the milling of potentially very high objects.

On the plus side, the basic package includes a wide choice of control software, as well as CAD/CAM software to create your 3D models and G-code files. However, you will need to purchase a computer yourself to install this software. Same disadvantage as for the Stepcraft machine, you will have to add a certain budget to complete your machine: computer, work surface, table, spindle, delivery,...

Its technical characteristics are quite good: rapid moves at 12.000mm/min, precision at approximately 0,01mm and ball screws on the three axes. However, it has one weak point: its robust construction. Its axes are mounted on unsupported linear rails, the ball screws have a small diameter for this type of machine (12mm) and the all-aluminium frame seems a little light to be able to cut hard materials or at high-speed while keeping the announced precision.

Pros
good price/quality ratio
possibility to machine high parts

Cons
less robust construction
missing essential elements in the basic package

MEKANIKA Pro-M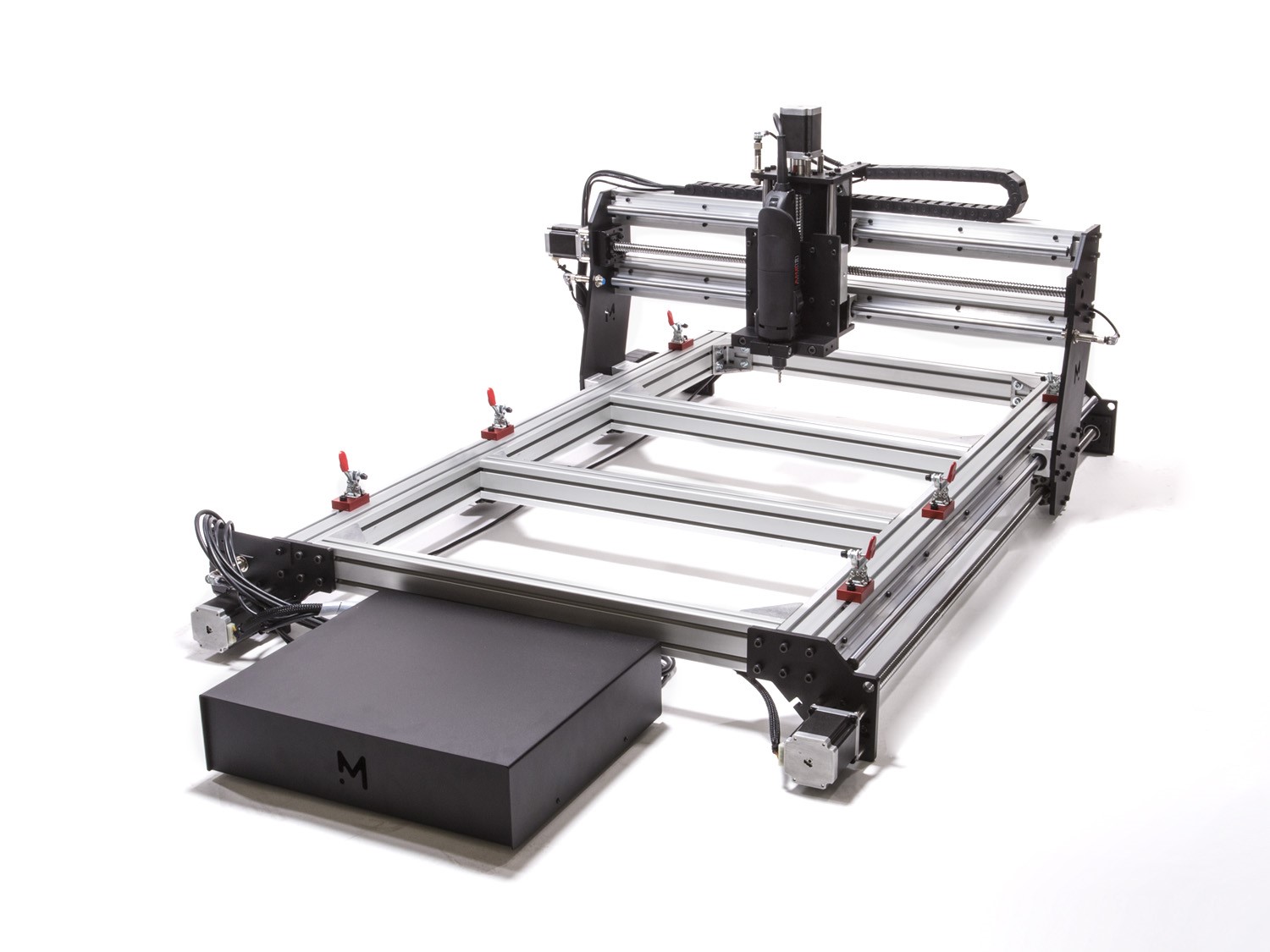 Mekanika's machine is the newcomer to the market of pro CNC milling machines. It is a very ergonomic machine, easy to use and built with quality components, manufactured and pre-assembled in Belgium. It has the advantage of being totally plug-and-play, requiring no external computer and no pre-configuration before use. However, you will need to take the time to assemble this machine, which comes as a kit (allow 5 hours), with the help of a series of explanatory videos available online. The team also produces a number of articles and video tutorials to make learning CNC milling easier.

The construction of the machine is very robust. It has supported linear rails on X and Y, large 16mm ball screws on each axis and 8mm steel interface plates, enabling it to achieve high milling performance and also to machine hard materials such as steel.

In addition, the basic kit includes all the elements you will need to get started: PlanetCNC control software, pre-installed and configured with a lifetime license, an AMB (Kress) FME-P 1050 spindle, an automatic tool length sensor, a suction boot,... Bonus point, delivery is offered all over Europe.

Pros
plug-and-play machine, does not require any external computer
many options included in the basic package, including free delivery
very robust construction made out of quality components
Cons
kit to be assembled (optional pre-assembly possible)

Summary Table
















Manufacturer

Stepcraft

MillRight

CNC-Step

MEKANIKA

Model

Q.204

Power Route XL

High-Z 1000/T


Pro-M


Price (excl. VAT)

5,160.00 €

$ 5,649.00

4,450.00 €

5,490.00 €

Delivery (Belgium)

200.00 €
unspecified
300.00 €

included

Working area

620 x 1220 mm

1250 x 1250 mm

600 x 1000 mm

650 x 1050 mm

Z travel
145 mm

125 mm
110 mm
115 mm

Rapid moves (speed)
10.000 mm/min
unspecified
12.000 mm/min
10.000 mm/min
Motors

3x Nema23

4x Nema23
4x Nema23
4x Nema23
Guiding system

All-Steel Motion System

16mm Supported rails

22mm Unsupported rails

16mm Supported rails

Driving system

Ball screws (leadscrew on Z)

16mm Ball screws (12mm on Z)

12mm Ball screws

16mm Ball screws

Frame

Steel plates & alu profiles

Alu plates & alu profiles
Alu plates & alu profiles
Steel plates & alu profiles
Controller









Control software









Computer









Spindle








Tool length sensor








Dust shoe