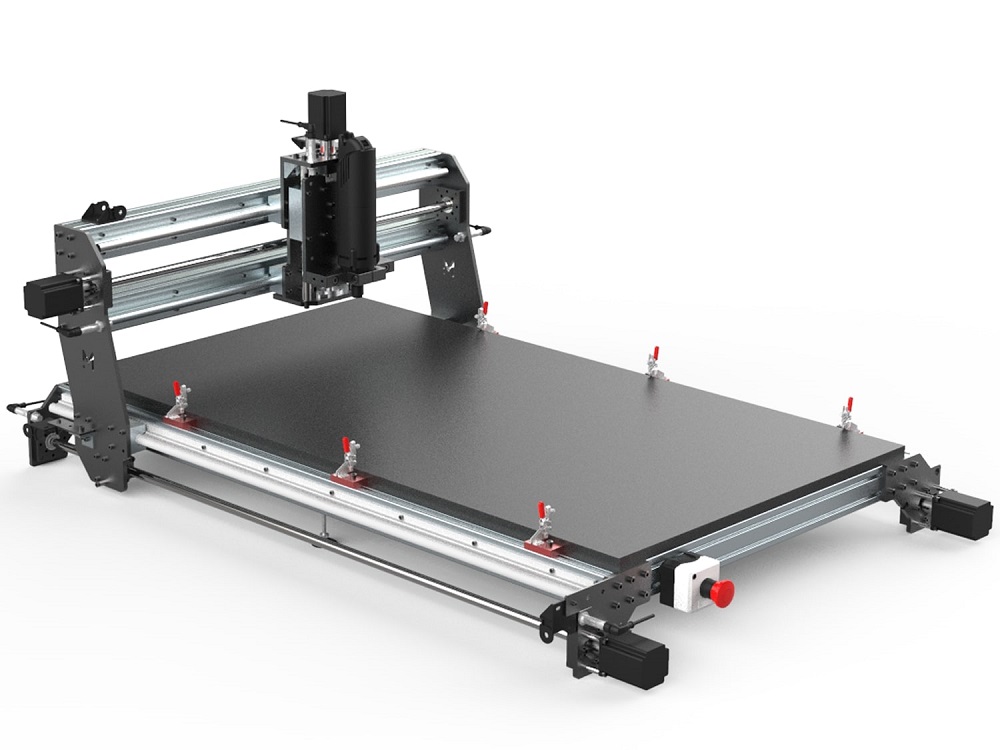 Open source CNC Milling Machine

This page will guide you through all the necessary steps to build a fully functional 3-axis CNC router. Available as a kit, you can also purchase it on our e-shop and have everything delivered to you right away.

An Accessible professional CNC router
This robust machine is capable of cutting a wide range of materials, from plastics and wood to aluminium or steel. It is also completely modular, which means that you can build it choosing the size that suits you the best, depending on the space available inside your workshop or depending on what you want to make out of it.
Mechanical parts
We made several choices while designing this machine, most of them with a wish to provide a very reliable and ergonomic CNC router.
First of all, w
e decided to use ball screws to drive each axis. They have a very high mechanical efficiency compared to classical lead screws, they are more precise without having any backlash, they require little maintenance and have a much longer lifespan. That said, if you want to decrease the overall price of the machine, you can easily switch those with 16mm lead screws without having to change much in our original design.
Each axis is mounted on linear supported rails to increase the overall stiffness of the machine. Everything is then assembled using standard aluminium profiles and specific parts that can be manufactured using typical cutting technologies (laser cutting, CNC milling or water jet cutting).
You can find the 3D files in .STEP format inside the CAD folder of this project. They are separated into two files: the complete machine assembly and all the specific parts that have to be manufactured.
Electronics & Software
This machine is controlled using a Raspberry Pi and a software called PlanetCNC installed on it. It means that it doesn't require any external computer to work, while still providing a very user-friendly interface. You will only need a screen, mouse and keyboard to plug to the control box and get started.
| | |
| --- | --- |
| Working area | 650 x 1050mm (can be modified) |
| Z clearance height | 115mm with a travel distance of 70mm |
| Overall size | 1400x1000x600mm (can be modified) |
| Linear Guides | 16mm SBS supported rails (unsupported for the Z axis) |
| Drive system | 16mm Ball screws |
| Accuracy | 0,01mm - 0,05mm, with a repeatability of 0,01mm |
| Maximal travel speed | 10.000mm/min |
| Motors (X, Y1, Y2, Z) | 4 High-torque Nema23 stepper motors |
| Structure | Aluminium profiles and digitally manufactured steel plates |
| Controller & Software | PlanetCNC software installed on a Raspberry Pi 4B |
In the project directory, you will find a document referencing all the parts and components needed to build the machine. They are separated in three lists :
The mechanical elements list, containing all elements needed to build your machine, from screws and nuts to steel custom parts.

The structural elements list, containing all aluminium profiles, ball screws, rails and brackets.

The electronic components list, containing the control box and all electronic parts to be mounted on the machine (motors, inductive sensors and cables).
With all those parts, you will be able to build a fully functional 3-axis CNC router. Yet, you will need to add the following elements to be able to start cutting anything correctly :

A

spoiler board

At first, we recommend using a simple wood panel, which is enough to get a grasp on CNC machining. We recommend reading our article on spoilerboards to find what works best for you.

A

screen

with an HDMI input, a USB

mouse

and a USB

keyboard

, to connect to your electronic box as the main control interface for your machine.

A

CAM software

. You will need a Computer Aided Manufacturing software to translate your 3D models into a G-code readable by the machine. We suggest you to use free options like Fusion360 or SketchuCAM.

A

table

which can bear the weight of the machine and which has enough space to put your control interfaces: screen, keyboard and mouse. It needs to be robust and stiff, as vibrations will affect the precision of your cuts.
Mechanics
We created a playlist of videos to show you how to assemble your CNC machine. Everything is on our Youtube channel, so don't hesitate to check out the rest of our content, such as tutorials, how-to's and testimonials (we have two channels, one in French and one in English)
Electronics
Below, a simplified electrical block diagram of the whole control box to help you with the wiring. The power circuit uses 48V DC and the limit switches circuit uses 24V DC (both converted from the available 220V AC). The Raspberry Pi is powered using a 5V voltage, converted from the 24V.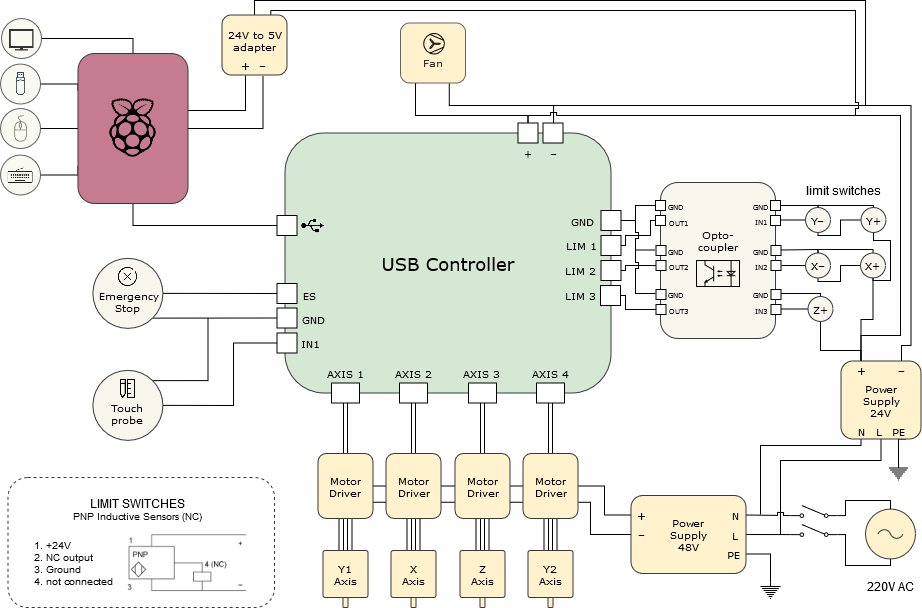 Here is the list of all components used here, with their respective characteristics:
Raspberry Pi 4, 2GB RAM, 32GB SD card (also works with a Raspberry Pi 3B or 3B+ and a 16GB card) ;

Mouse and keyboard with USB output ;

Emergency stop button, contact NC, red mushroom head pushbutton, latching turn to release ;

Touch probe device for tool length measuring function (optional) ;

PlanetCNC USB controller Mk3/4 (breakout board) ;

PlanetCNC motor driver 6A – 256 ;

NEMA23 2-phases hybrid stepper motor, high torque and 1,8° step angle ;

Inductive sensors PNP NC, M12, 10-30V DC ;

4 Channels Optocoupler 3.6-30V ;

Switch mode power supply 48V 10A, 480W ;

Switch mode power supply 24V 2,2A, 52W ;

24V to 5V DC 3A adapter ;

IEC 220V 10A connector, with a 10A T fuse ;

Rocker switch DPST (on/off power switch) ;
We highly recommend you to use shielded cables for your motors, in order to avoid the undesirable effects of EMI. We don't use shielded cables on the sensors since they are connected to an optocoupler and use a 24V logic signal, which makes them very robust against interferences.
Depending on whether you decide to make yourself an electronic enclosure, you might need to choose several connectors. We recommend you the following ones :
Motors

: GX16 5 pins (1 pin being used for the shield) or XLR 4 pins ;

Sensors

: GX12 3 pins or M12 4 pins ;

Emergency Stop & Probe

: GX12 2 pins or RCA connector.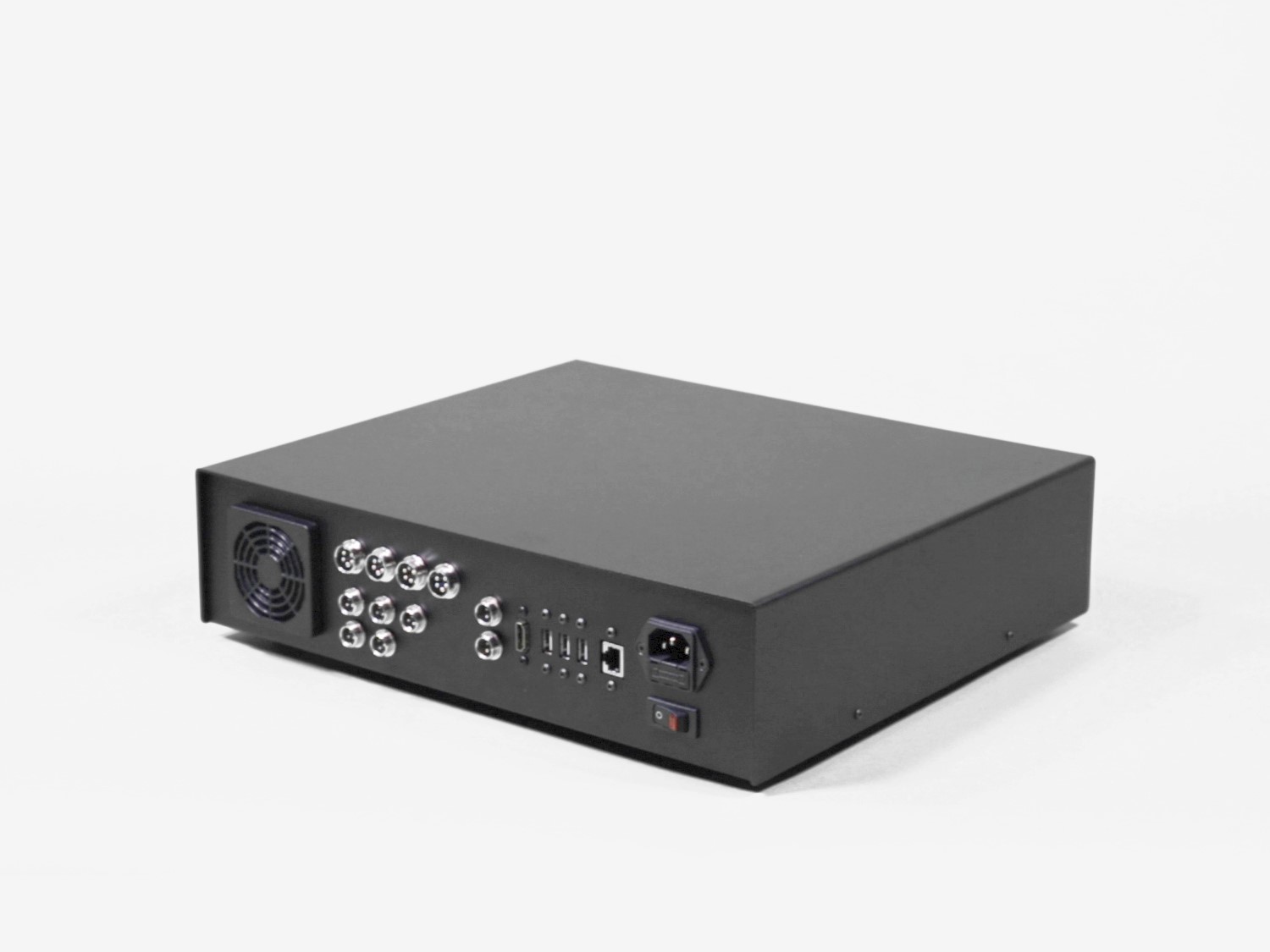 Software
The software used to control the machine, PlanetCNC TNG, can be downloaded here : https://planet-cnc.com/software/
All the documentation related to that software can be found inside the software directory of this project. If you prefer to control your machine using a different software (LinuxCNC, Mach3...), it is of course possible. Just bear in mind that you will have to change the break-out-board and the motor drivers from the ones detailed above.
On the PlanetCNC website, you will also have to download the software used to configure the motor drivers: https://planet-cnc.com/product/motordriver-6-0a-256/
This .zip includes a Windows program called "PoStep60v0.63.exe", that you can execute to configure your motor drivers. Just plug each driver to your computer using a USB-A to USB-B cable and enter the values required by your stepper motors. We reccommend using the 1/32 microstepping mode and keeping the default idle current values.
You will also find our PlanetCNC settings and configuration file in the software directory of the project. Once everything is set up and correctly installed, simply use the import settings functionality and you will be good to go !
In this directory, we also included a post-processor compatible with Fusion360 CAM that will allow to you generate G-code that can be read by PlanetCNC (file: "PlanetCNC_USB_Controller.cps"). If you want to use a different CAM software, don't hesitate to contact us to see what can be done.
This machine is licensed under the Creative Commons BY-NC-SA 4. More details here : https://creativecommons.org/licenses/by-nc-sa/4.0/
Mekanika is an open project and we are eager to welcome other designers, engineers or creative people on board. We have tons of ideas that we want to develop, so if you share our values and views on open source hardware and modular design, drop us an email at: ask@mekanika.io
At last, we would be glad to hear from you when you're finished building your own CNC router. Any feedback is of course greatly appreciated too, so don't hesitate to get in touch with us !
Cheers,
The Mekanika Team