Evo
THE EVOLVING
CNC MILLING MACHINE
EVO - LIVE NOW ON KICKSTARTER

---
Evo is the first-ever
evolving CNC milling
machine
, allowing you to produce objects from your tabletop and grow without limit.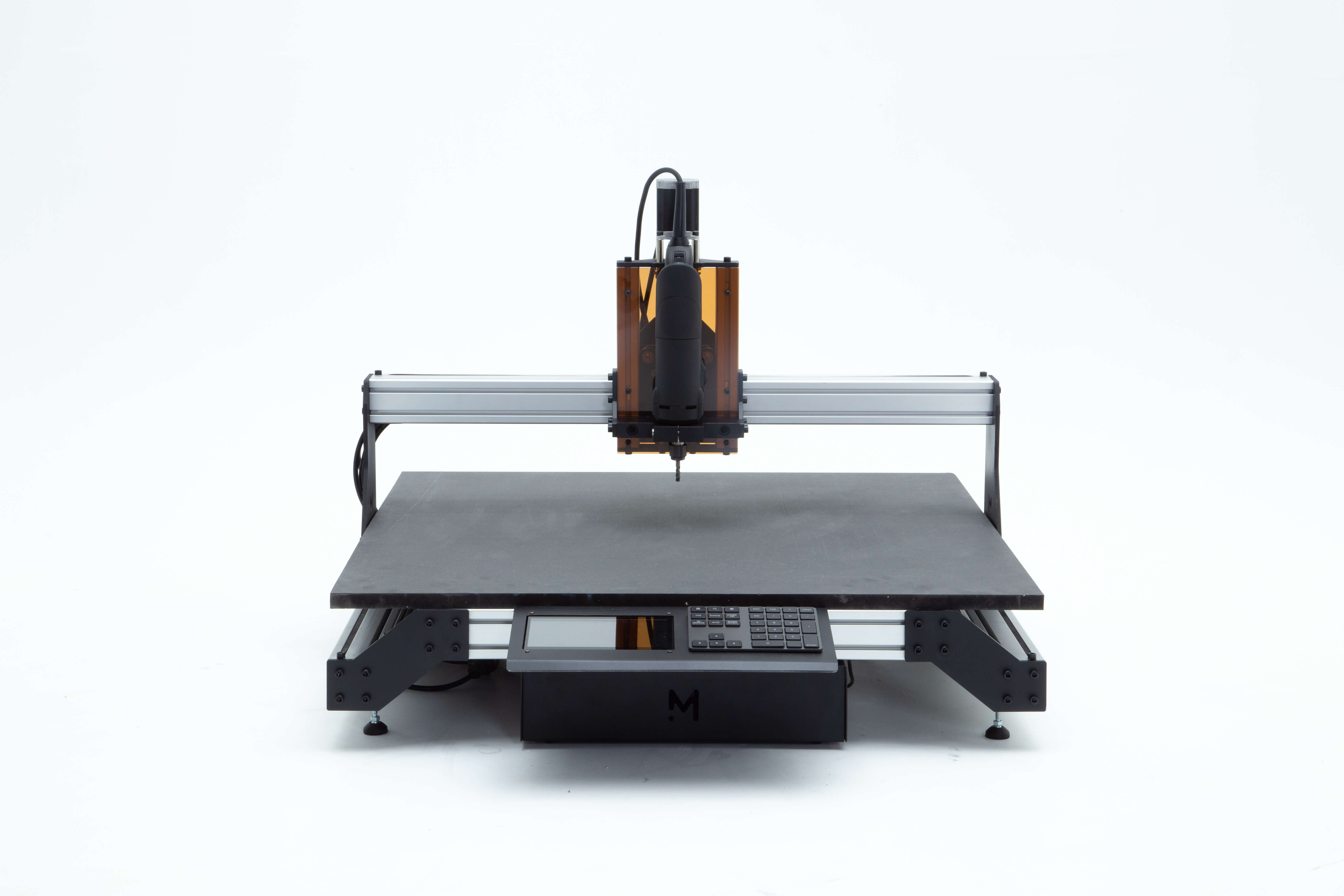 We've designed this machine to solve the most common struggles that CNC users encounter when they start from scratch.
A SIMPLE AND INTUITIVE CONTROL
Our touch screen, together with a dedicated keypad, will allow you to get your hands on the machine in no time and control it the easiest way.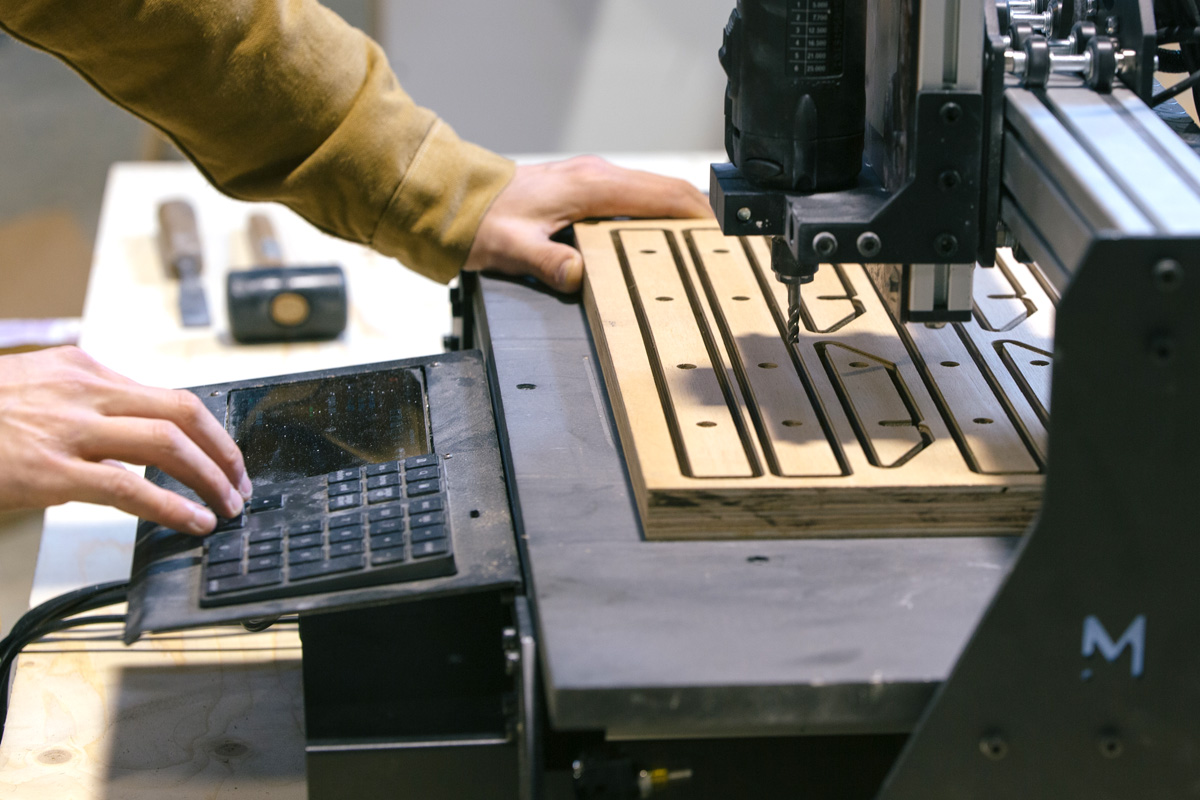 THE MOST COMPACT MACHINE ON THE MARKET
We know that available space is always an issue in the beginning. With this machine, what you see is what you get:
an optimized footprint, without the need for an external computer
or extra room to put your control box. Everything is there.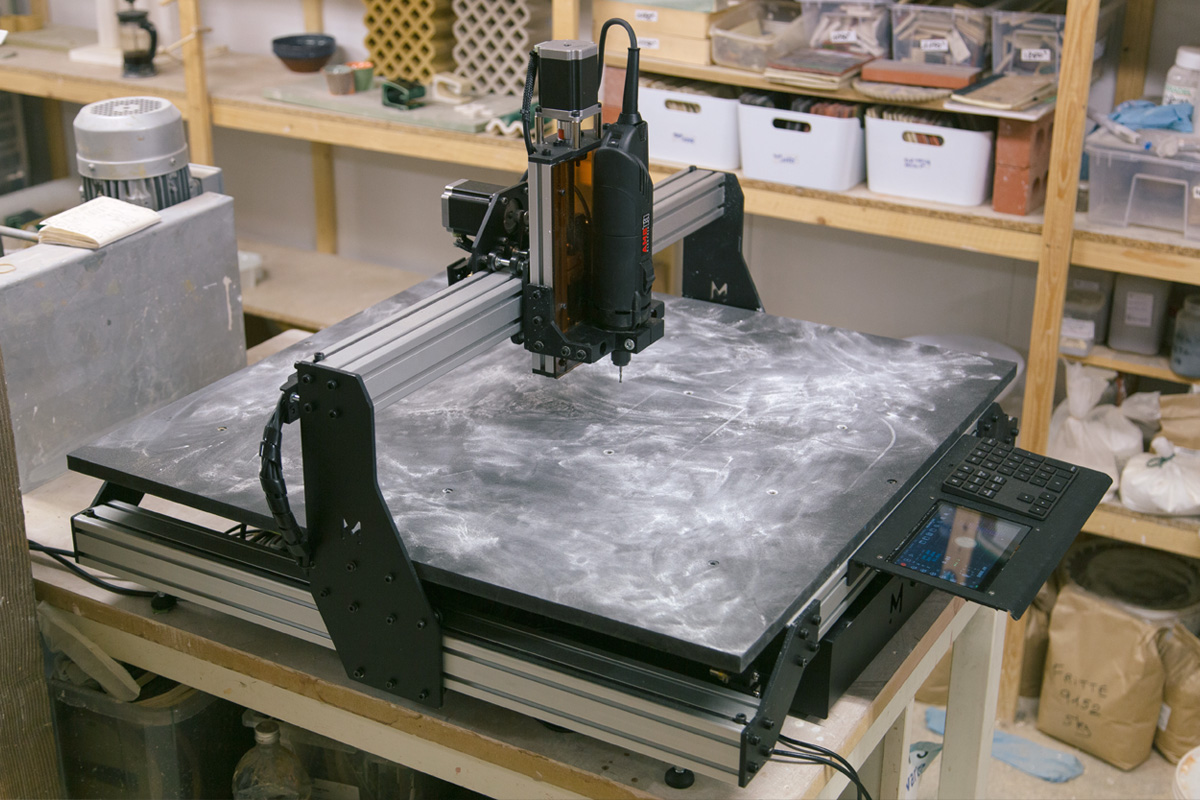 DO YOUR NEEDS EVOLVE? THIS MACHINE DOES TOO.
It's probably the most unique feature we've developed:
this machine can be easily upgraded to our Pro models and follow you for years
. We'd tend to say for a lifetime.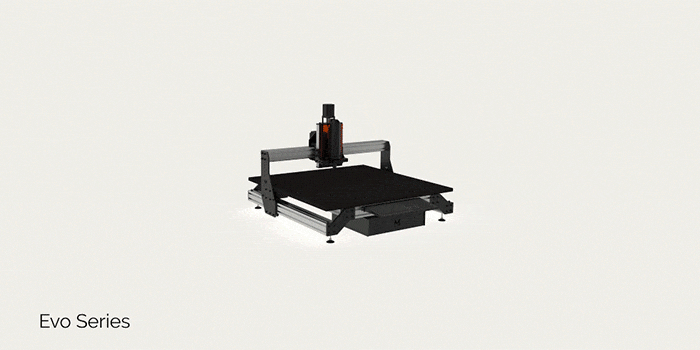 EVO INCLUDES MANY PRO FEATURES
The entry-level range of CNC machines usually misses great features that make CNC milling truly enjoyable. We decided to change this and implement out-of-the-box:
an

automatic square gantry

functionality ;

a

smart current control

on the motors, locking each axis even when idle for some time (during a tool change for instance) ;

a

tool length sensor

with a microswitch, for a quick and accurate calibration on the Z-axis.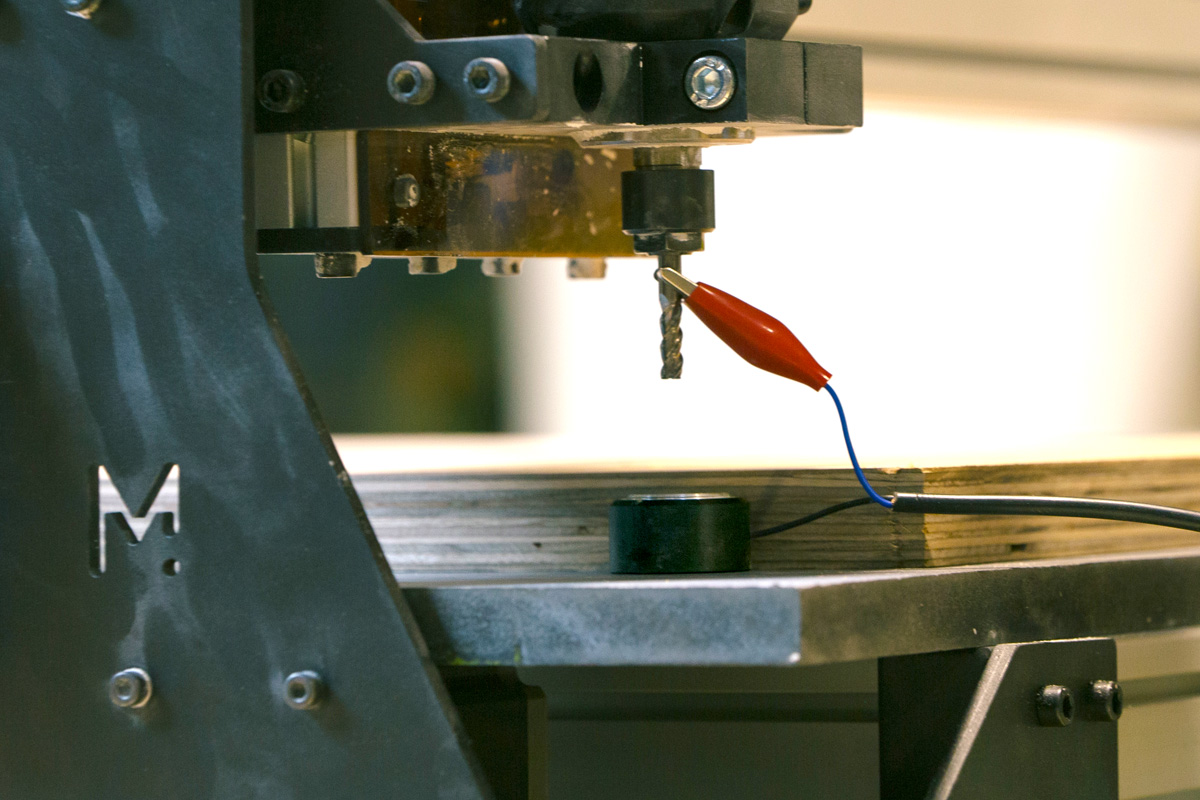 In this short video, we show you our optimized workflow, easily turning a 3D file into a manufactured object.
In terms of compatibility,
our machines can be used with any software of your
choice.
You can create a

2D drawing

(dxf, dwg,...) with your favourite software - such as Adobe Illustrator or Inkscape - and then

import it directly

into the machine.

You can also import a

3D model

on any

CAM

software - such as Fusion360 or Vectric - and use our

custom post-processor

to generate the compatible code that will be imported into the machine.
The possibilities of a CNC machine are limitless, mostly because it can mill many materials rapidly and precisely, making it the perfect combination with tools you might already have.
BUILD YOUR OWN CUSTOM FURNITURE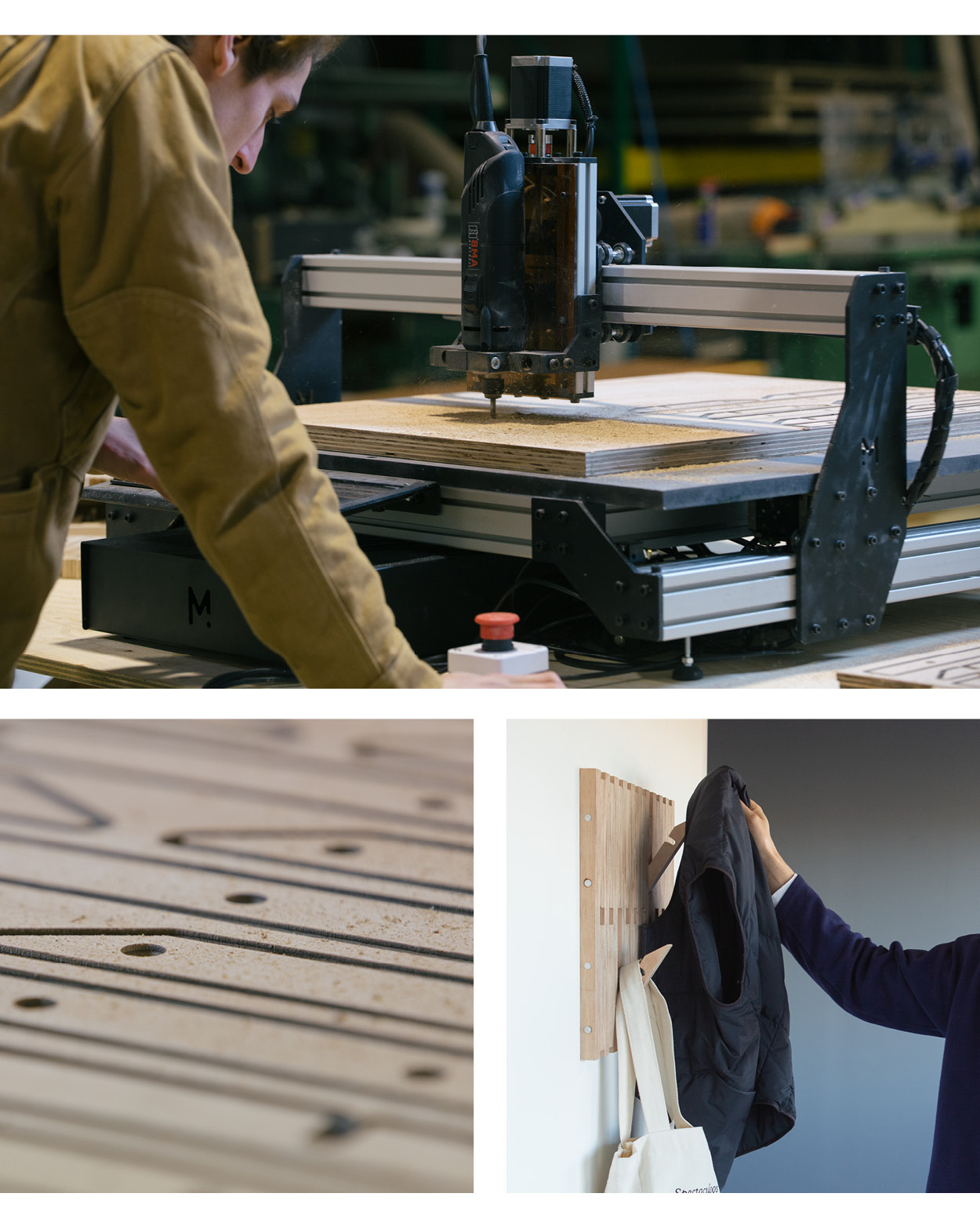 TURN PROTOTYPES INTO PRODUCTS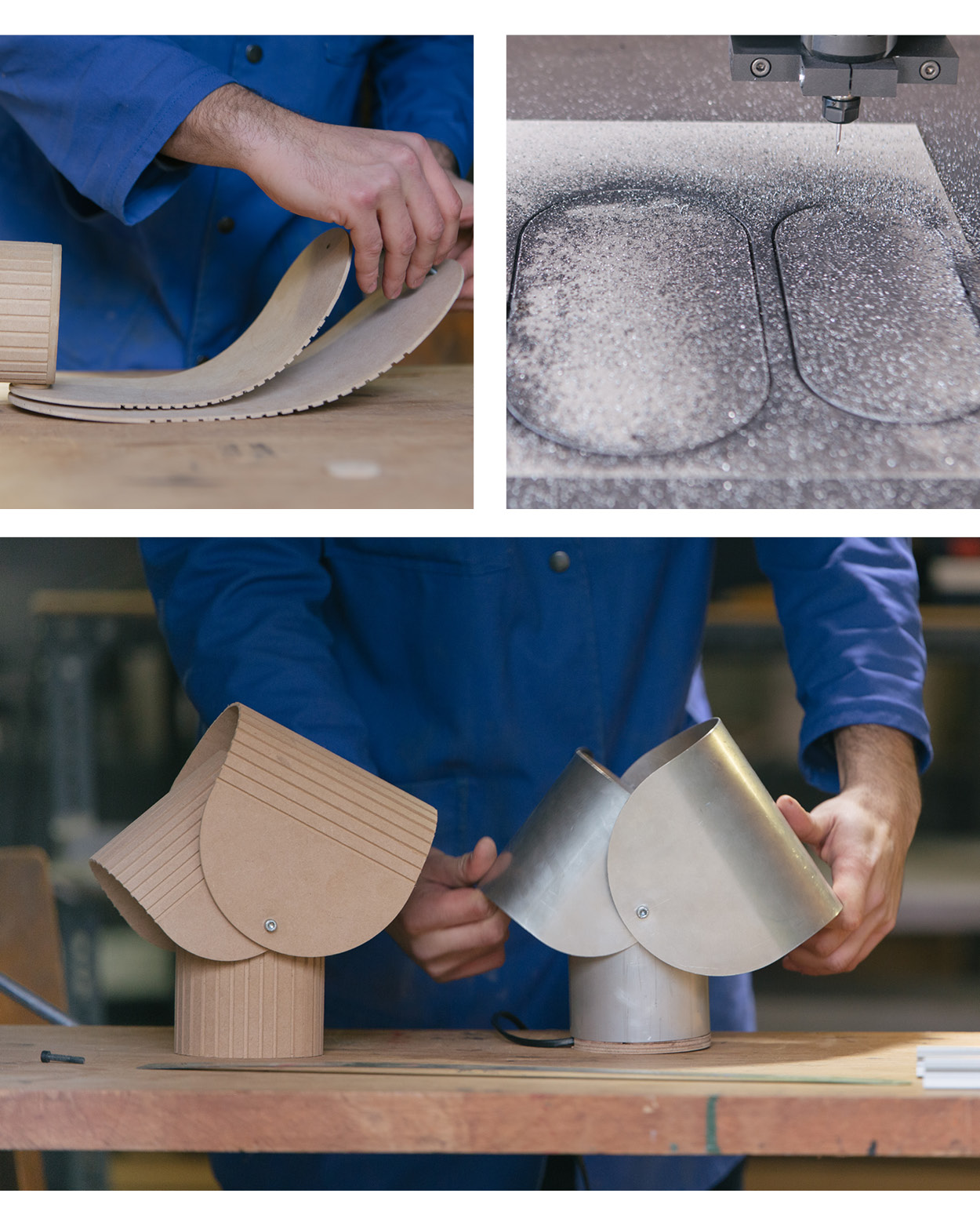 EXPAND THE POSSIBILITIES OF YOUR CRAFTS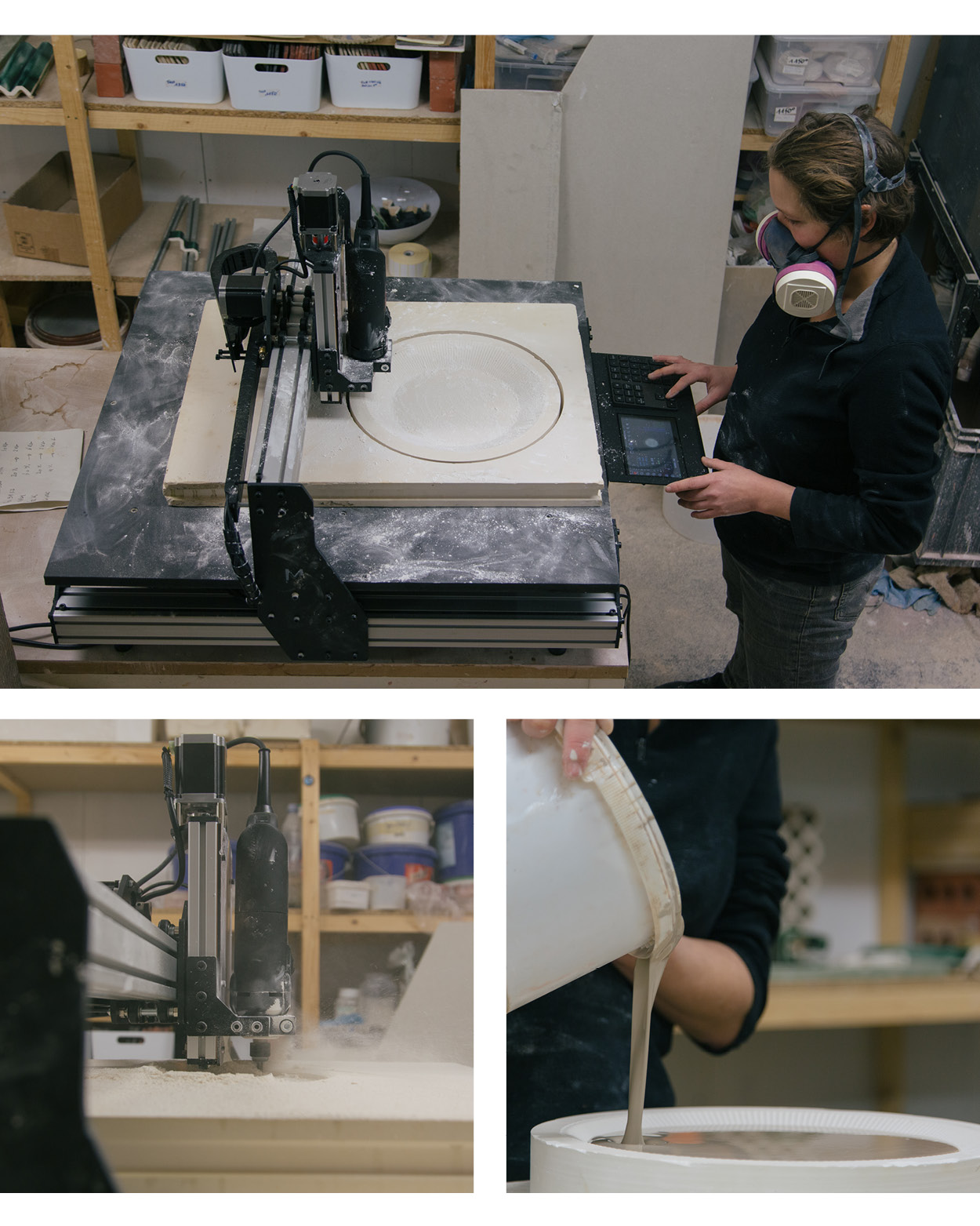 COMBINE TECHNOLOGIES TO CREATE INNOVATIVE OBJECTS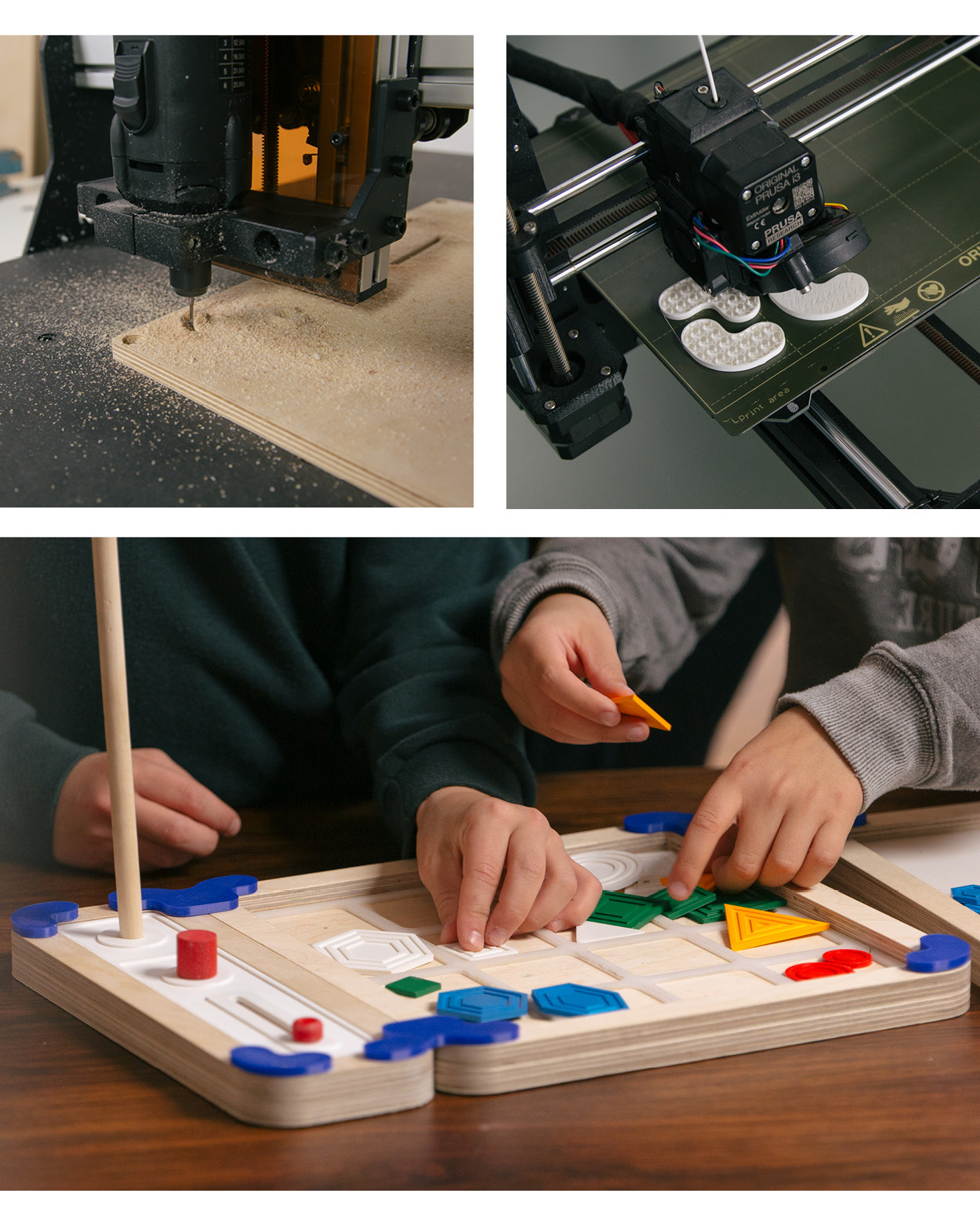 ONE MACHINE TO SHAPE MANY MATERIALS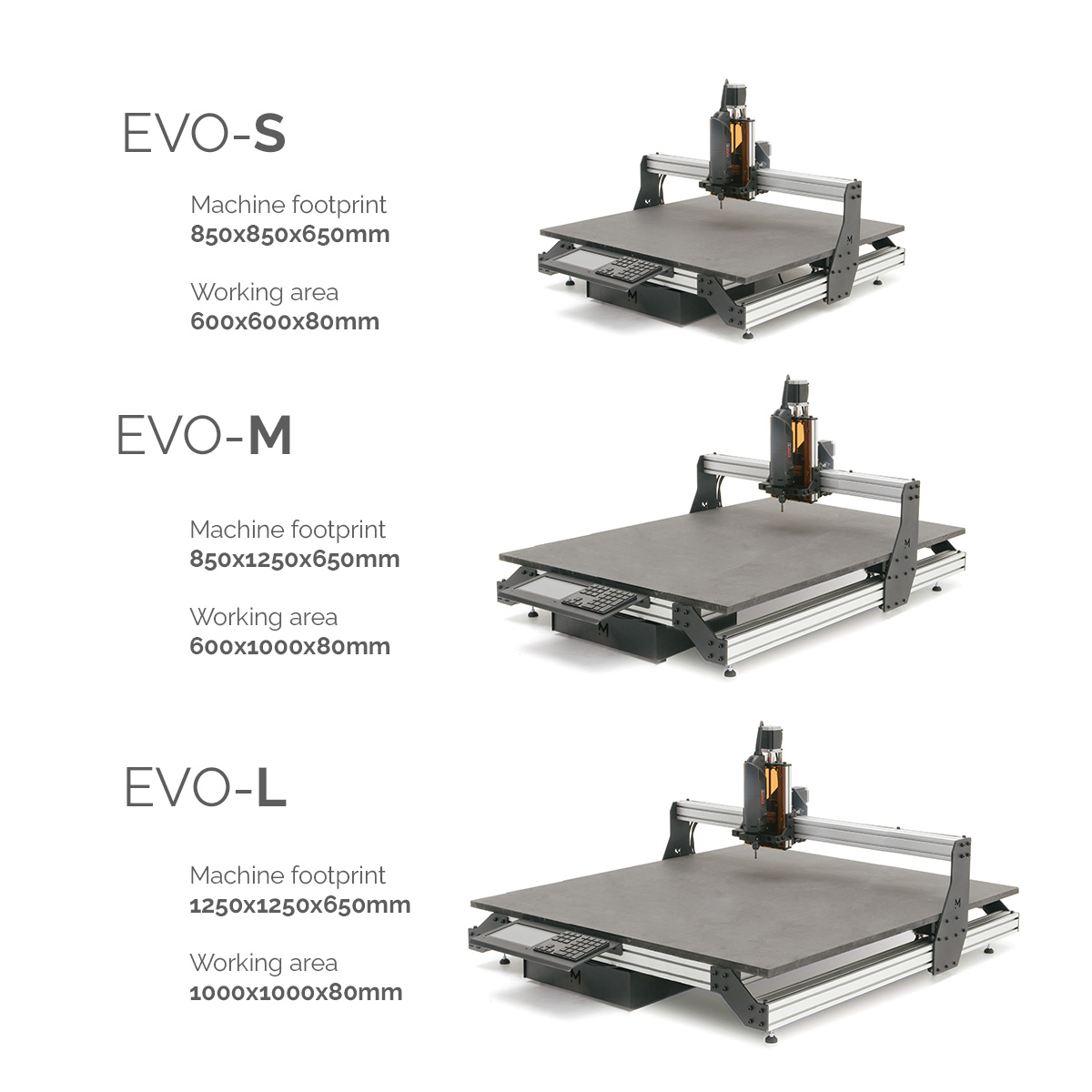 The machine comes
as a kit
, that you will need to assemble yourself with the help of our
video guides
.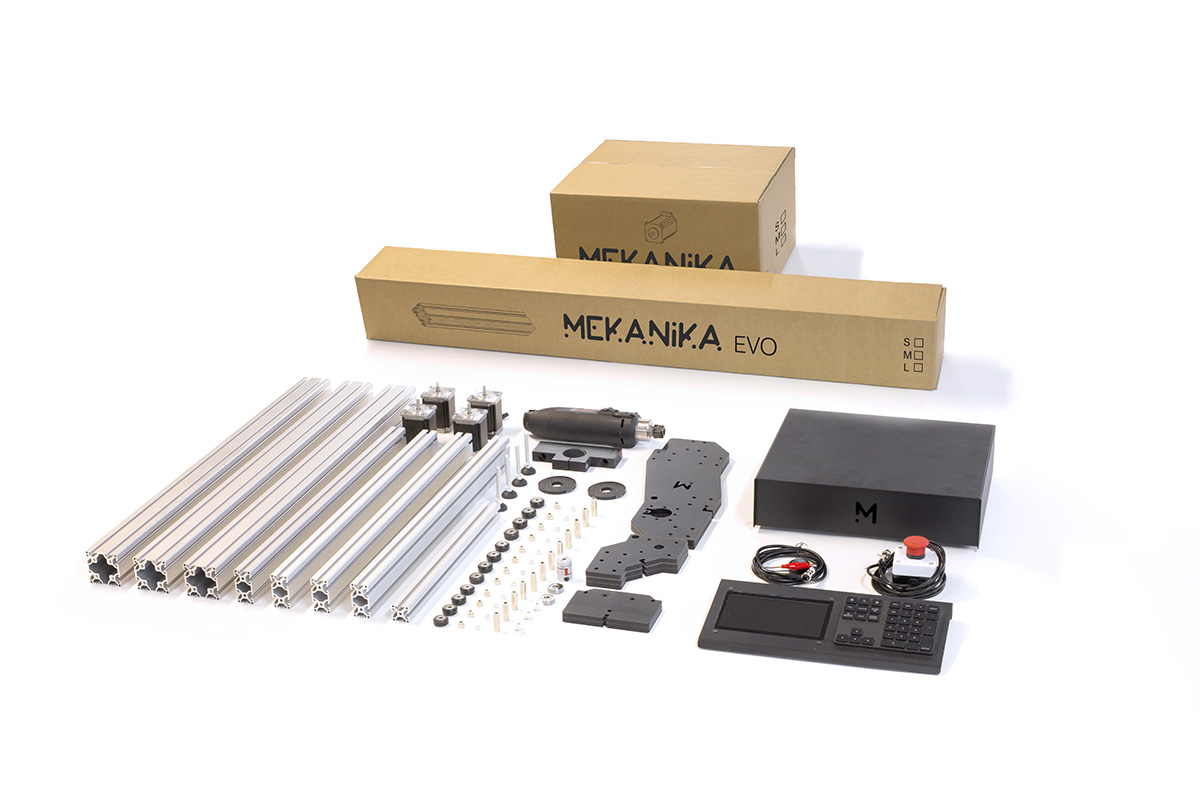 We haven't shot the mounting guide videos for the Evo yet, but you can check the ones from our Pro-series to have an idea of how easy it is!

THE MAIN FEATURES OF THE EVO
Hereunder, you'll find all the main features and characteristics of the machine.
Please note that the spoilerboard is not included
.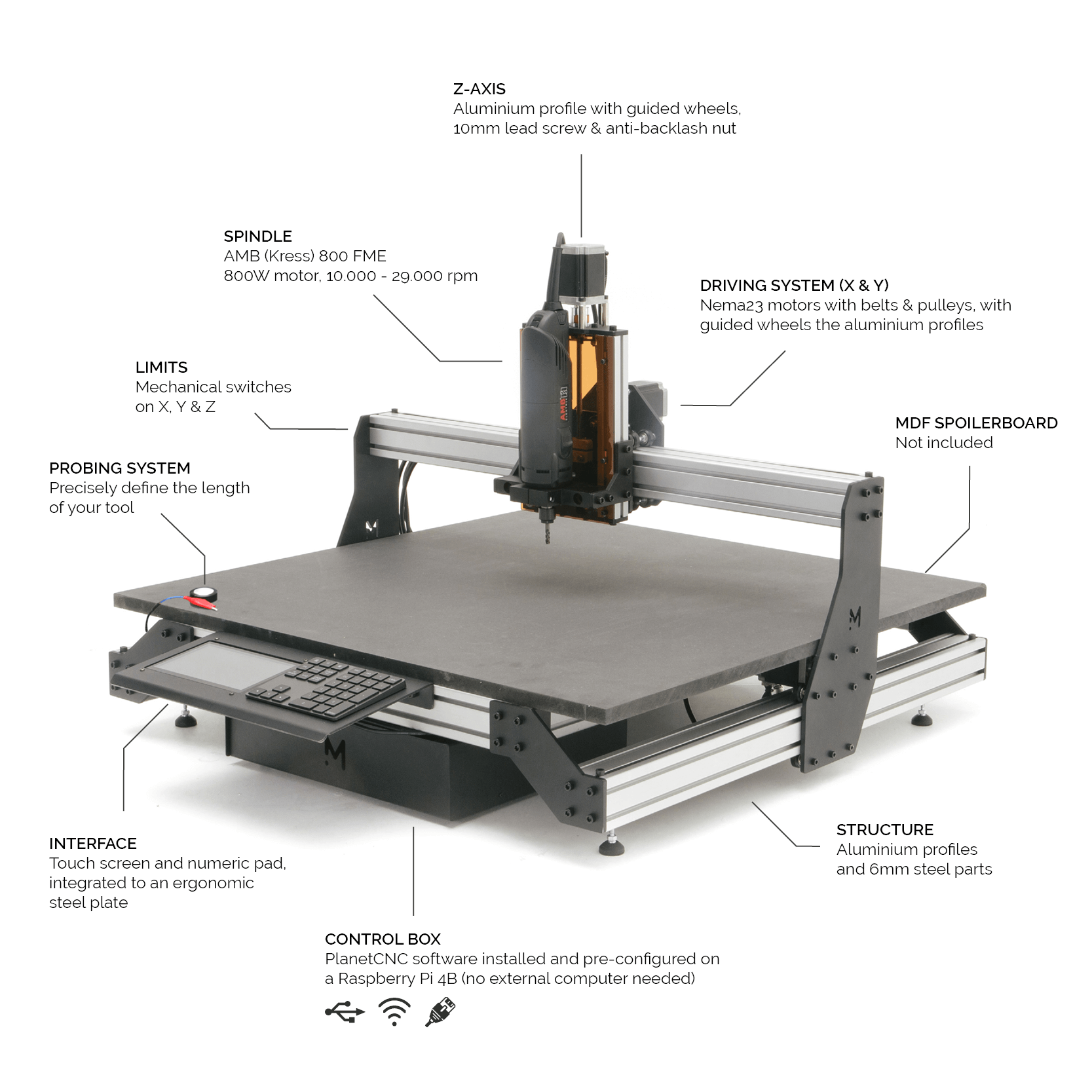 At the end of the campaign, every backer will have the opportunity to add our available add-ons to their orders. There are 3 of them :
The Plexiglas dust-shoe

. Its plans are also open-source, allowing you to mill it by yourself with your new machine.

The

end

mills and mandrels bundle

, allowing to start any job right away.

The

upgrade of your AMB FME 800 spindle to an AMB FME-P 1050

, for more power and more accuracy.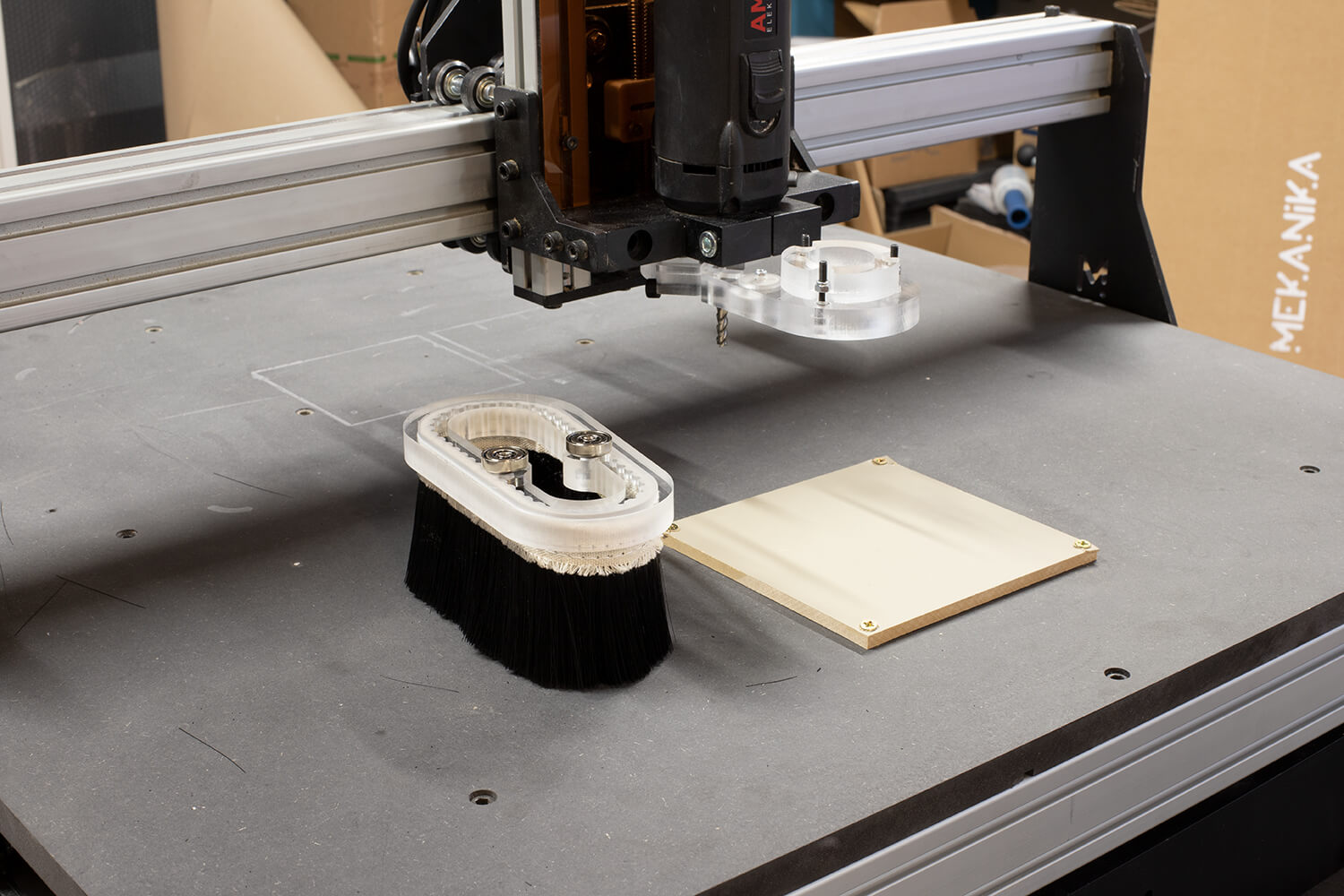 The main difference between CNC machines, besides their price, are their performances in terms of
robustness
,
speed
and
precision
. When it comes to owning a CNC machine, there's a good chance that your needs - at first - will come down to prototyping or make small series. However, at some point, you may want to grow and be able to switch to a more intensive production capability.
With the
Evo Series
, you'll be able to reach:
Typical cutting speeds in softwood of

2000mm/min

.

Achievable cutting precision of

0.1mm

.

Cutting capabilities in

wood, plastics, foams

at regular speeds and

non-ferrous metals

at low speeds.
With the
Pro Series
, you'll be able to reach:
Typical cutting speeds in softwood of

4000mm/min with higher passes

(production 6x to 10x faster).

Achievable cutting precision of

0.05mm.

Increased cutting capabilities in

hardwoods

and

non-ferrous metals

at production speeds, and

ferrous metals

at low speeds.
If you want to know more about our Pro-series, follow
this link
to our website.
First, choose the upgrade kit of your choice:
For the

Evo-series

, you can buy an upgrade kit to

increase in size

.

From the Evo-series to the Pro-series

, you can only

upgrade keeping the same size

from one machine to the other.
Buy the upgrade kit and follow our

videos to disassemble

your Evo model.

Change the parts

and enjoy your new machine.

Send us back all the components

that aren't used anymore.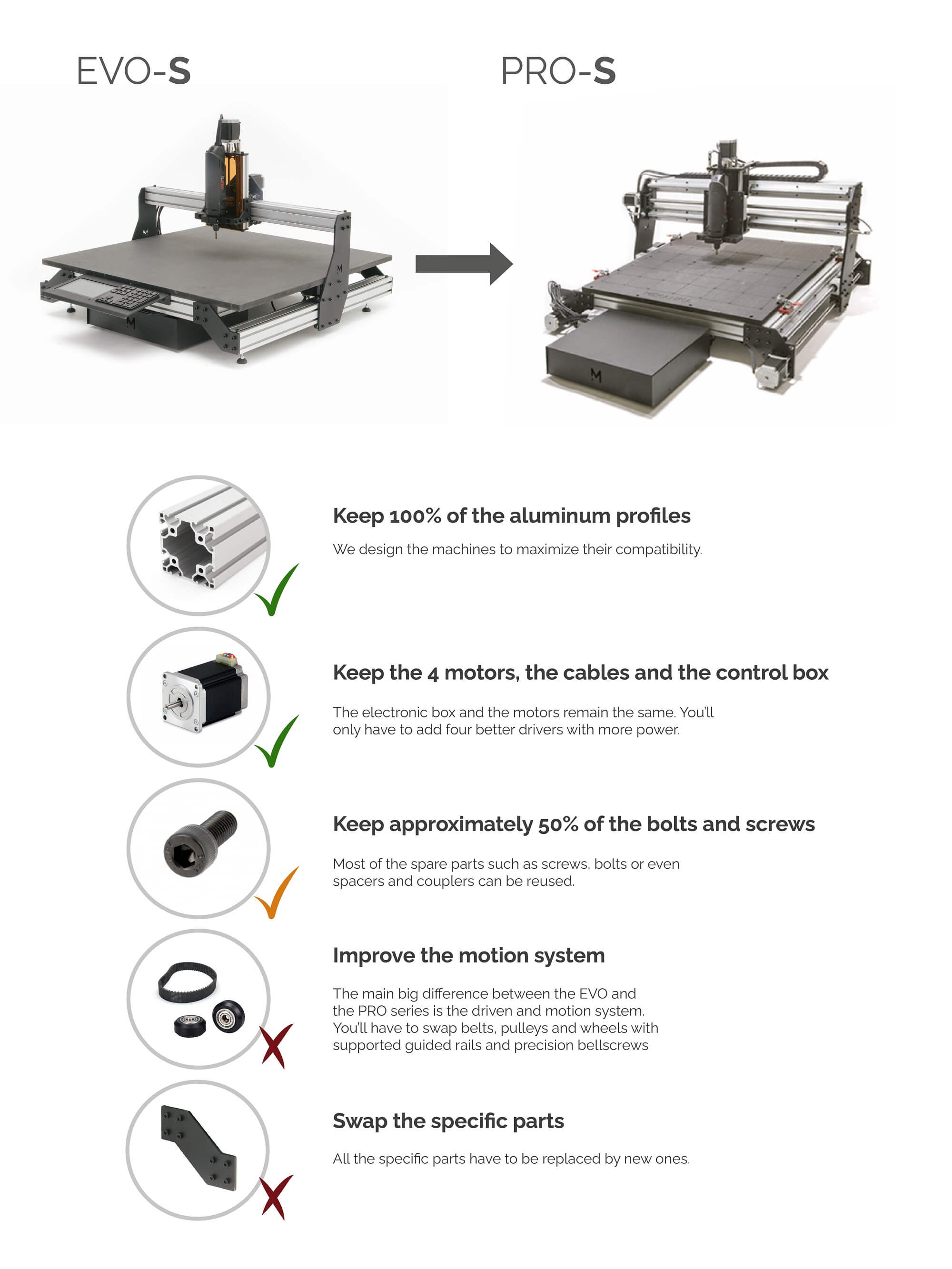 Hereunder, you can find the
price of the upgrade kits
(including Belgian 21% VAT).
Keep in mind that buying an EVO plus an upgrade kit will cost you approximately 15% more than buying the upgraded machine right away.
In short: EVO + Upgrade kit
=
Sale price of the upgraded machine
+
15%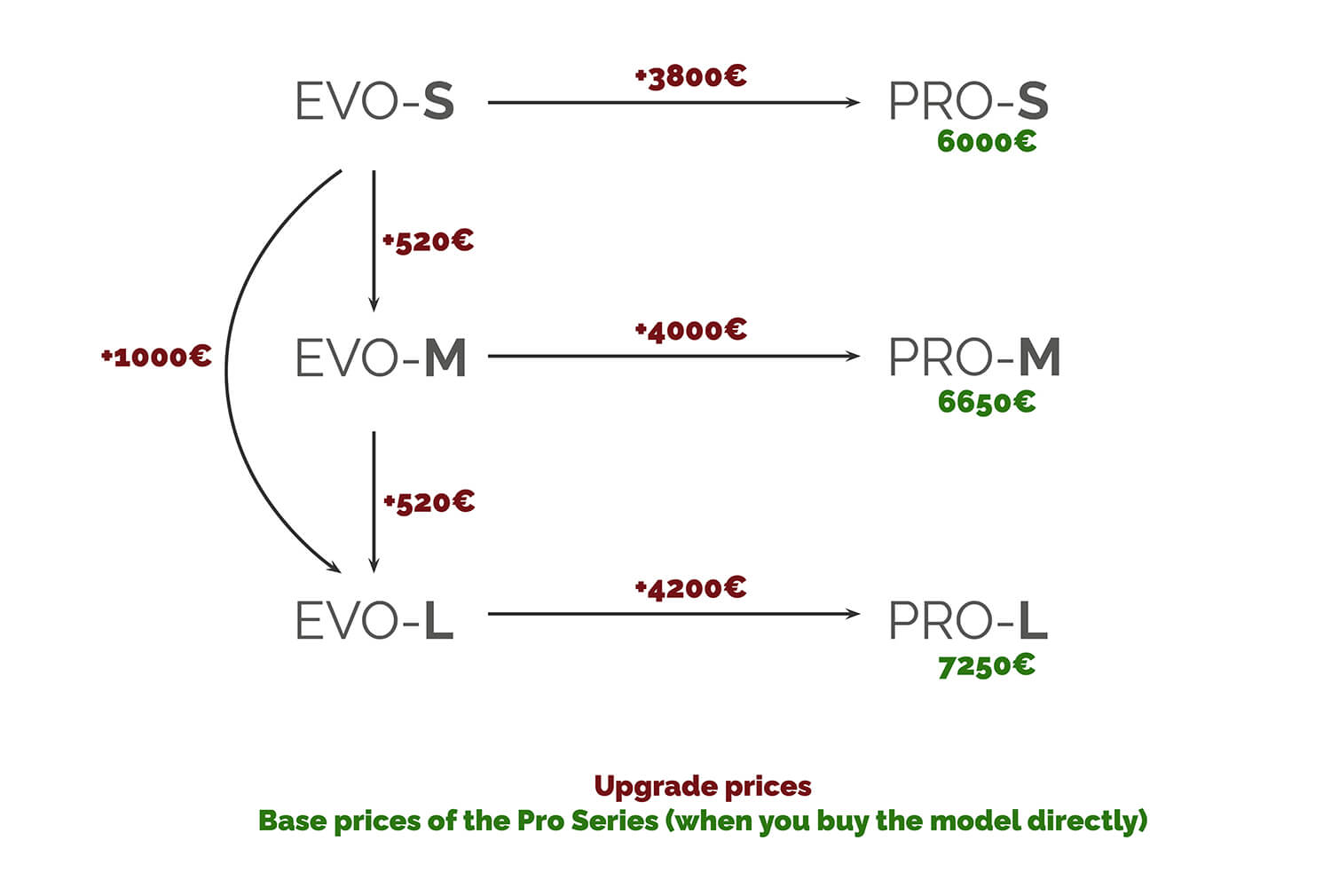 Please note also that we will put the priority to delivering the machines ordered, while
the upgrade kit will only be available at the end of this year
(December 2021)
.
Thirty years ago, open-source software seemed to be an odd idea. Today, new technologies open the gate for producing
open-source objects
, initiating an era of collaboration and knowledge-sharing like never before.
With the precious help of
Wikifactory
, Mekanika gives free access to all elements needed to achieve this: the machine documentation is presented in a user-friendly way, all 3D files are hosted with a versioning system and discussion channels are open to resolve issues or answer questions from the community.
You can already have a look at the open-source files of our Pro Series
here
.
Moreover, by
designing with modularity in mind
, we can improve the lifespan of a machine, ease its repairability and give the possibility to modify or improve it for specific uses. It also improves greatly the further development of add-ons and new features.
FREE VIDEO TUTORIALS & ARTICLES

Knowledge sharing is also at the core of what we're doing.
Learn step by step how to use the machine with our video tutorials.
Acquire more advanced technical knowledge with our
in-depth articles
.
Our Pro users are already very happy with their machines.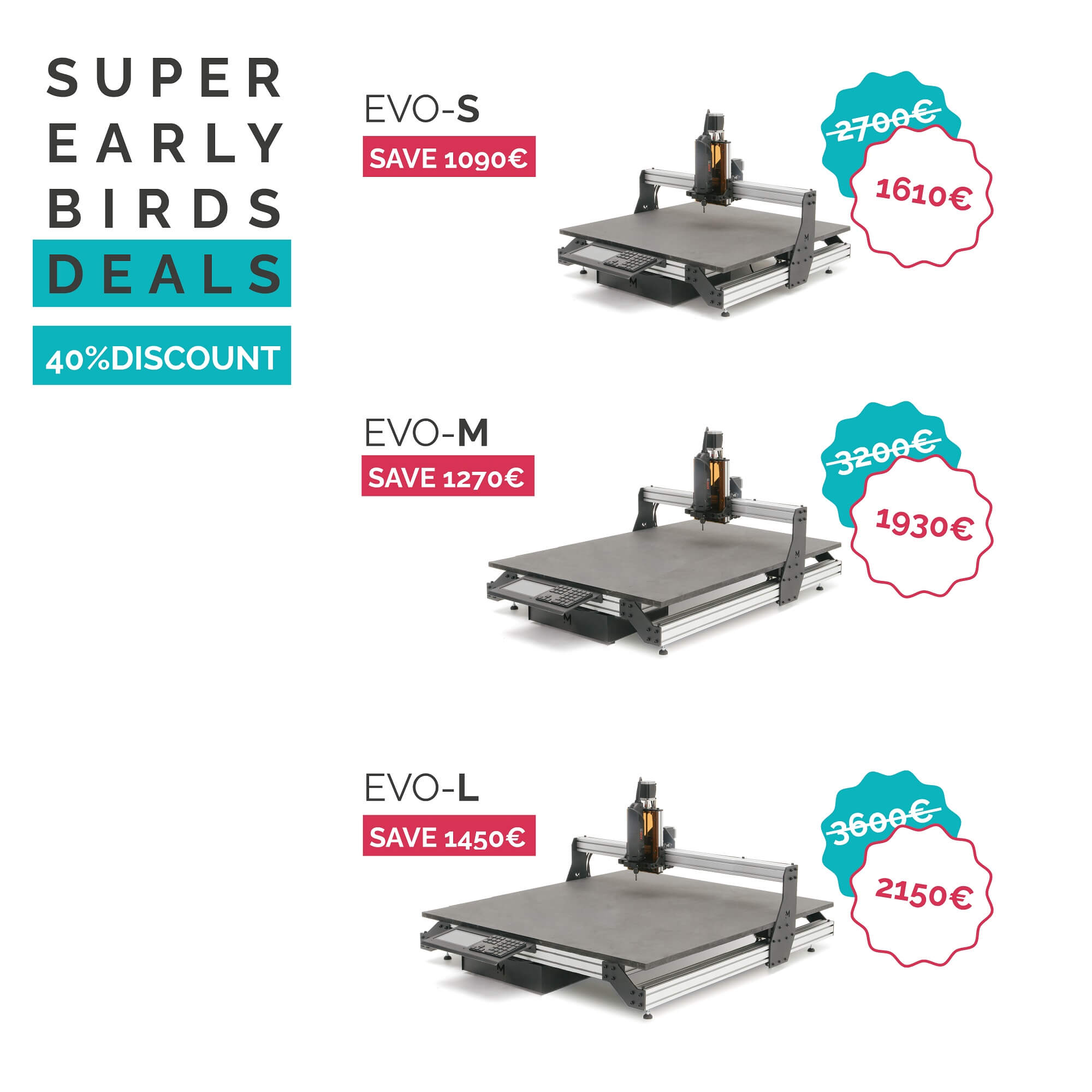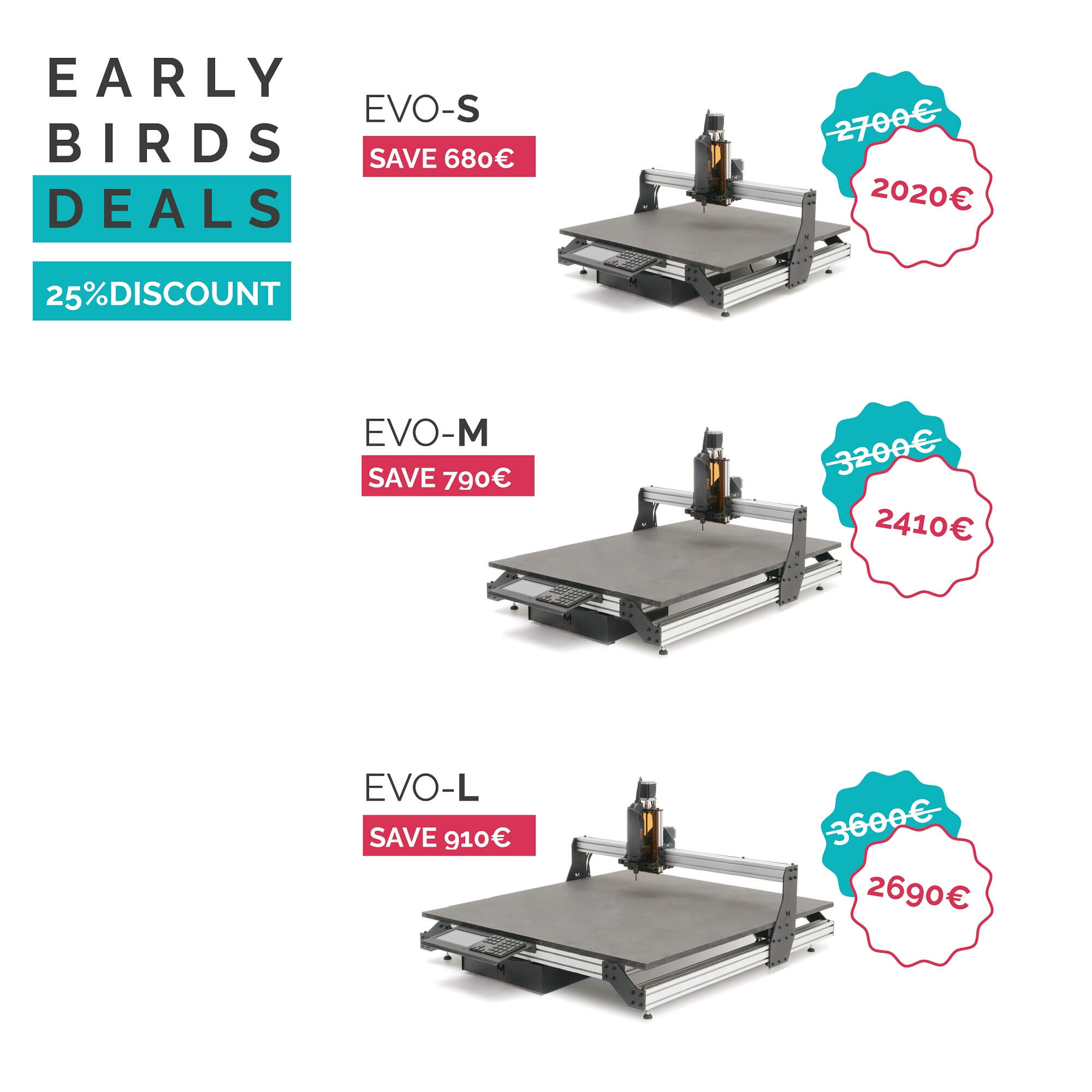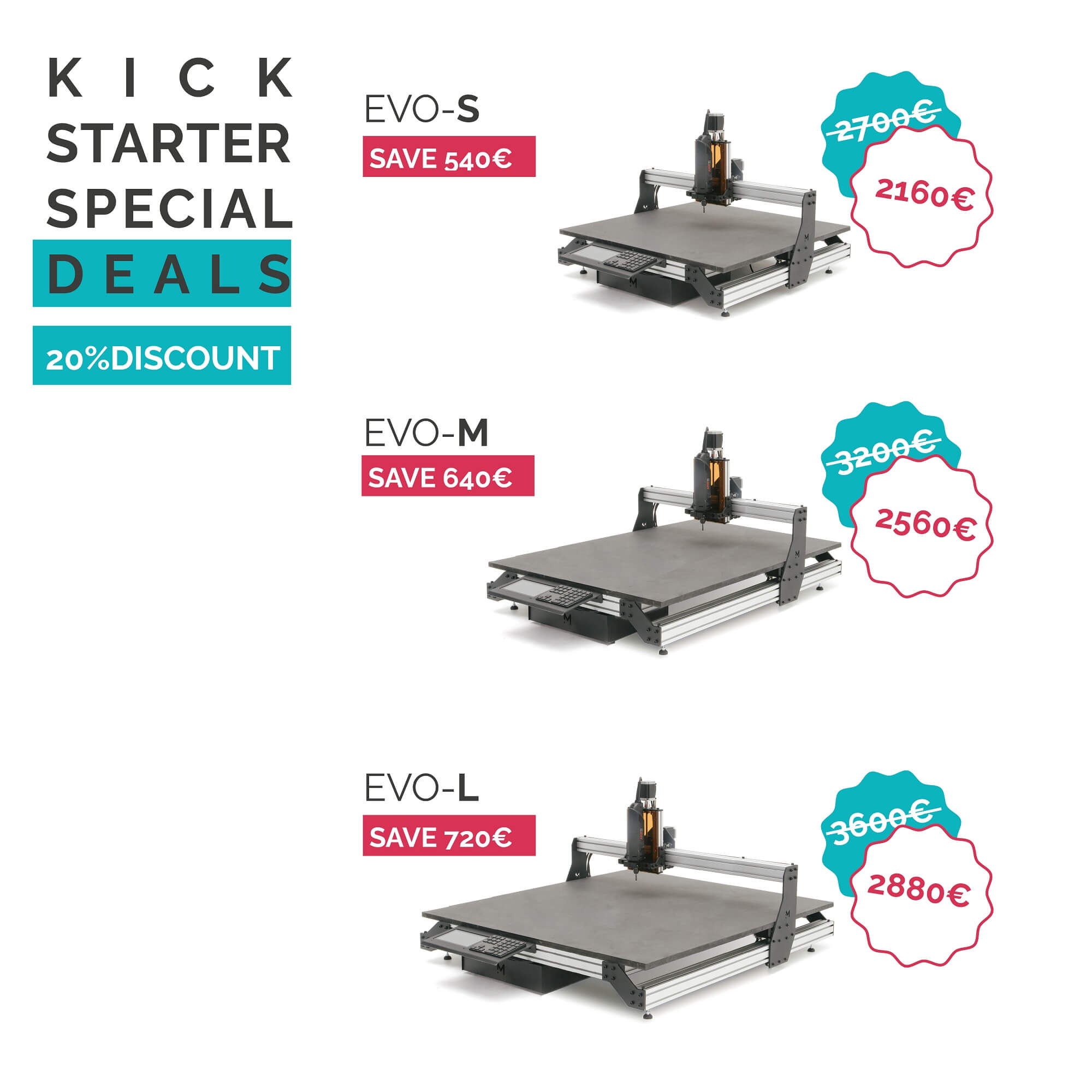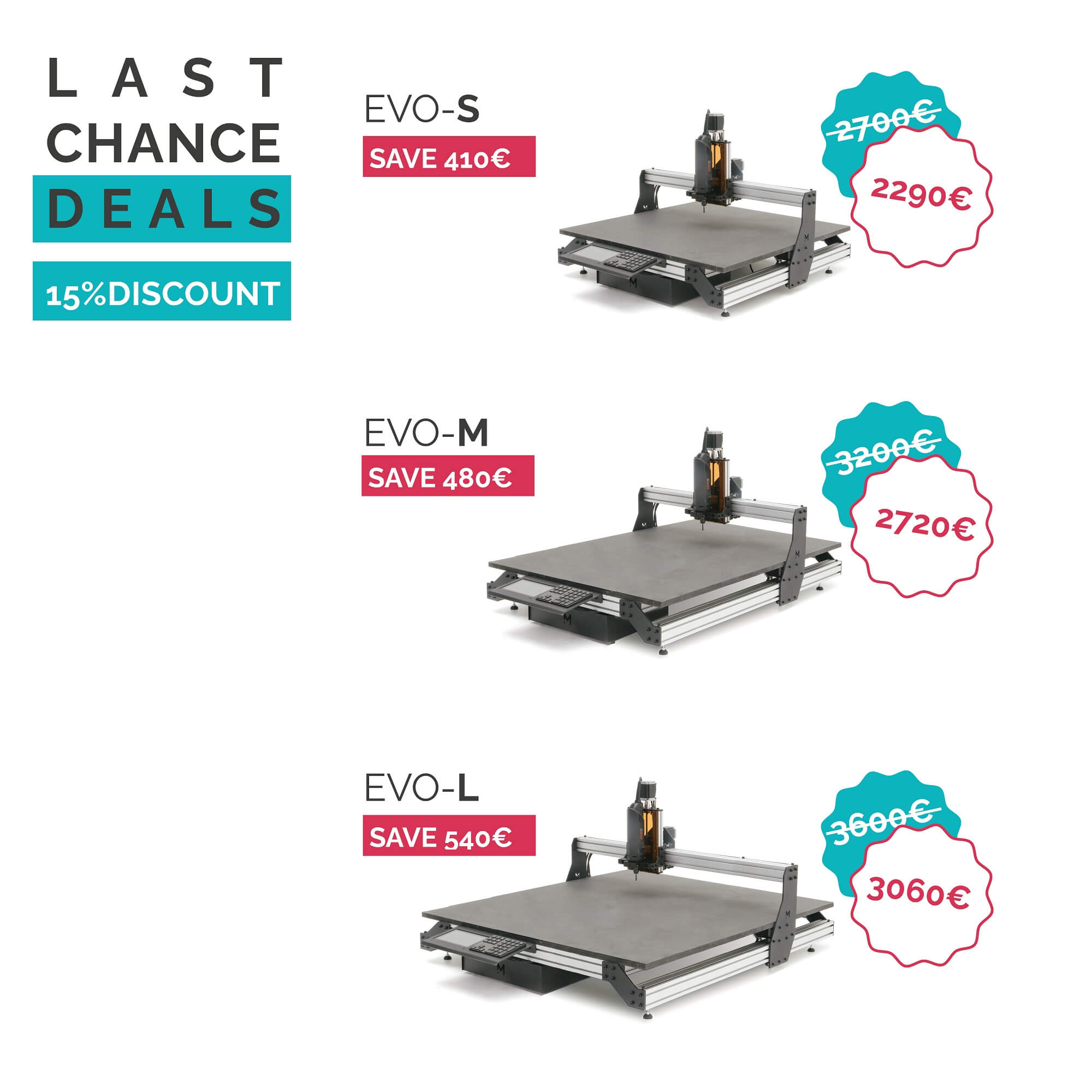 We're backed by major organizations from the open-source and design world.


In 2018, we launched Mekanika with one idea in mind:
facilitate local communities' access to manufacturing processes
, through
open-source tools
and
quality educational content
.
Our objective is to help people
create, prototype or produce small series
with quality tools and machines, which can be made by themselves or by ordering kits.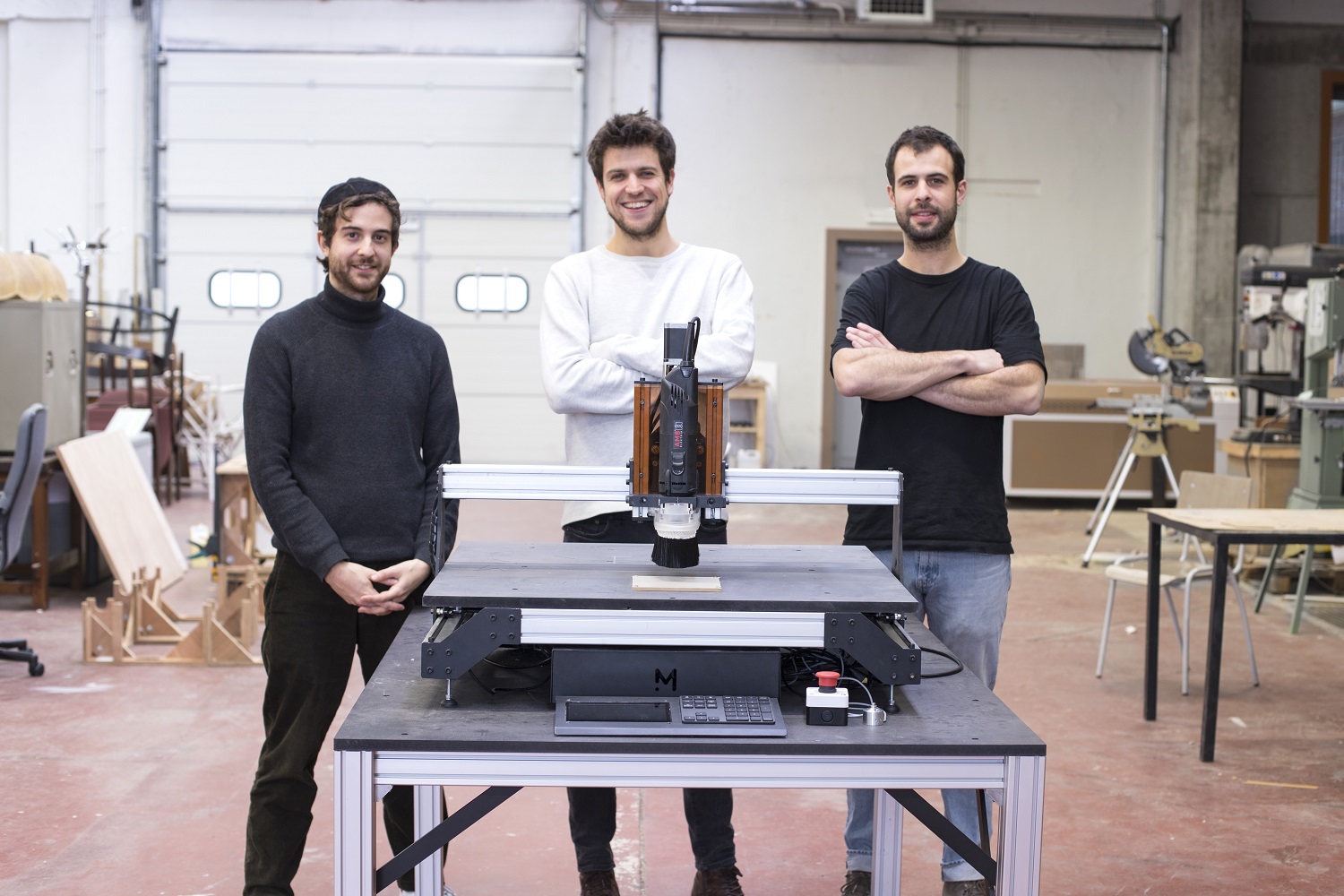 Martin
(right) is an industrial designer and an entrepreneur at heart. After working in design studios in Belgium and abroad, he started several projects such as
Leonar
or
@studio_biskt
, a ceramic studio.
Maxime
(center)
is a mechatronics engineer who quickly left a career started in China to start his own business. Passionate about Arts and Sciences, he develops in parallel various artistic (
@ohme_projects
) and professional projects (
Cuberdon software
).
Roldan
(left)
holds a master's degree in bioengineering in environmental technologies. He's eager to learn and spend most of his time exploring new things: he learned finance or marketing to make his projects work.