Fab CNC - Bundle
---
What's in the bundle?
- Mekanika FAB CNC milling machine
- Spindle 2.2 kW VFD
- Dust Collection kit
- End mill kit
- Spoilerboard kit
- 13.3" capacitive touchscreen & wireless custom keypad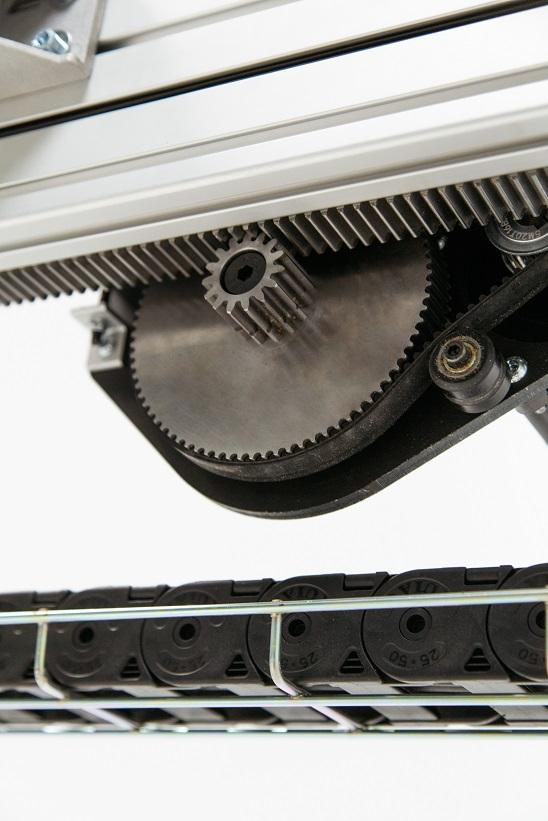 Steel structure driven by high-torque motors
The FAB has a strong and rigid structure, with  8 & 10mm steel plates and aluminium profiles (30x60mm & 60x60mm). 
Its modular design means that you will be able to bring it through the front door of your workshop. 
Its high-precision rack and pinion system on the Y-axis, its ball screws on the X- and Z-axis, and its prismatic rails allow it to remain accurate over long distances, even at high speeds.
The Z-axis has a high clearance of 133mm, to comfortably work with thicker materials.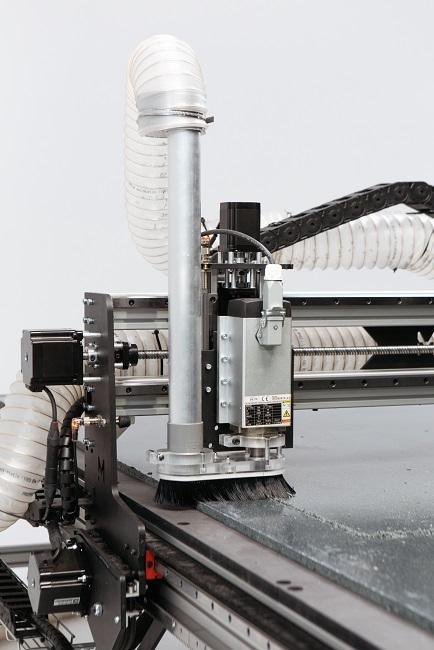 Precise and speedy CNC panel milling
With a working surface of 1300x2700mm, this machine is specially designed for people who want to work with standard panels of all kinds, and create stairs, cabinets, surfboards and more. 
The FAB can reliably mill a variety of materials at high speed. 
Typical cutting parameters (soft wood):
- Feedrate: 7000 mm/min
- Depth of cut: 5 mm
- Spindle speed: 20,000 rpm
- Carbide cutter 3 flute 6 mmm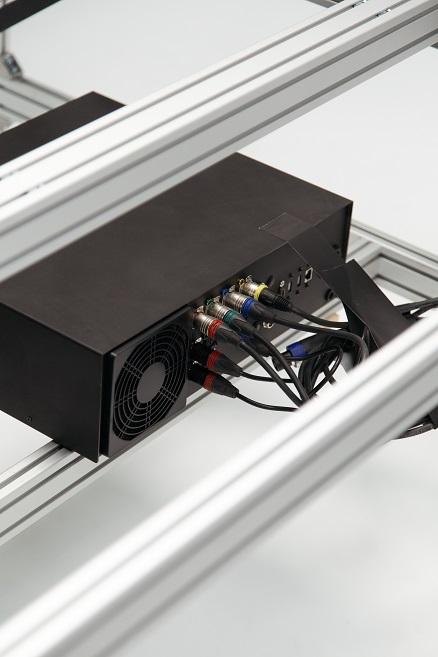 Plug-and-play onboarded computer
As opposed to many CNC milling machines on the market, the FAB comes with its own onboarded computer (Raspberry Pi 4B - 2 Gb RAM). 
That means that you don't have to dedicate a computer to the running of the machine, or worry about the impact of dust on its performance and longevity. 
The electronic control units are plug and play, assembled and tested in our workshop, in Brussels.
Every Mekanika CNC milling machine comes with PlanetCNC Mk3/4.
In the past, we were outsourcing a lot of our production, so bringing new products on the market  was a very long and expensive process. The FAB CNC machine allows us to speed up that process, we can test new experiments every day but also save a lot of money! 

It is also a lot less stressful than having to deal with subcontractors (unforeseen delays, machining errors). By internalizing our prototyping and our production, the machine paid itself back in less than a year.
All Mekanika machines come in a kit, and have to be assembled - which means you have full control of your machine, and will be able to easily make it enter your workshop. 
What will you receive on top of the machine kit?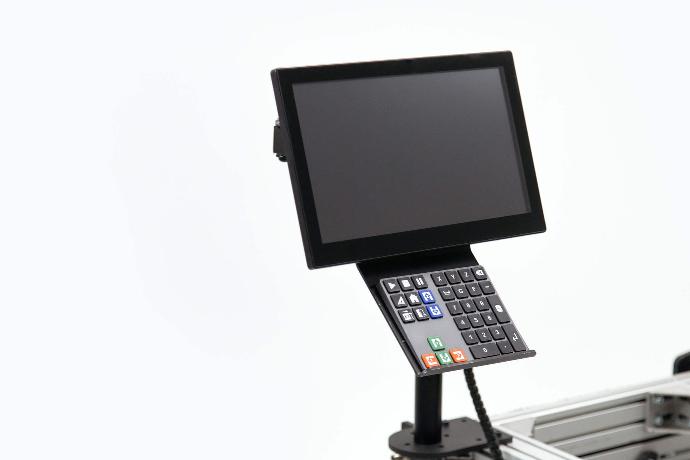 Upgraded interface 
With this 13.3" capacitive touchscreen & wireless custom keypad, you will be able to easily monitor your G-code & control your machine. 
Dust collection system

Using a 100mm anti-static flexible hose and a powerful extractor with a 900 m³/h volume flow, the FAB's dedicated dust collection system will handle chips of all kinds and protect your machine's performance.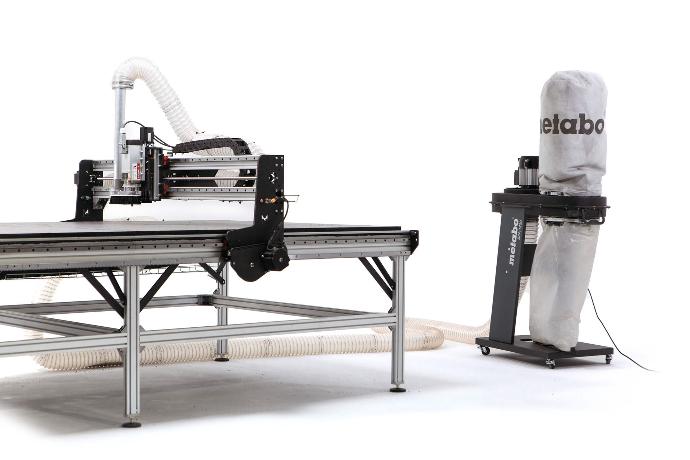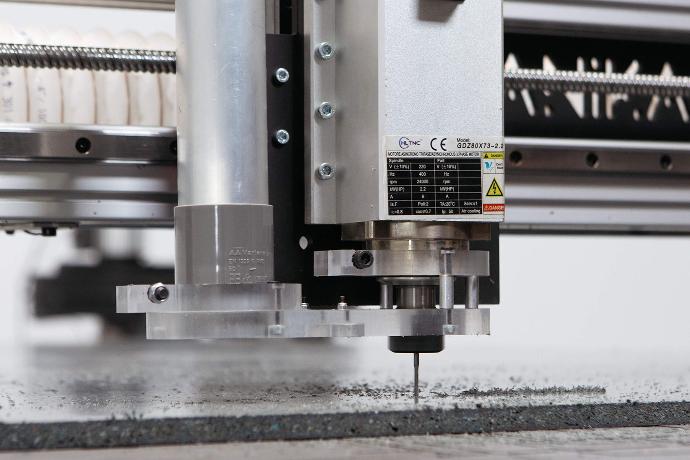 2.2kW VFD spindle 
This powerful frequency-driven spindle is the ideal add-on for our Fab CNC machines. It comes with a complete set of 13 ER20 collets, 2 wrenches, a plug-and-play control unit and all the necessary cables necessary to power it.
End mills bundle

This bundle contains 7 high quality end mills  to help you start cutting different materials and shapes right away.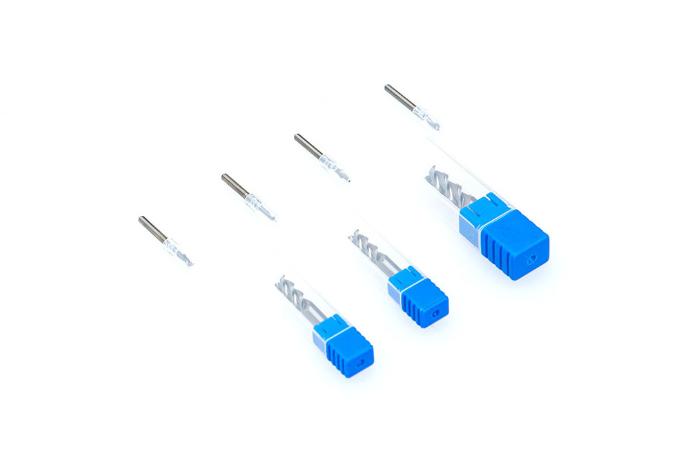 Advanced spoilerboard
Clamp your workpieces easily and work in ideal conditions. Our advanced spoilerboard kit includes everything you need to set up a flattened spoilerboard.
What you get with every Mekanika CNC milling machine
Reliability
Easy-to-use, high-quality machines you can rely on
(5-year warranty)
Tutorials
Learn from our CNC tutorials, and take part in our vibrant community to get your projects to the next level.
Control
Open-source plans for easy customization and repair.
Tech support
Technical support from a team of experts based in Belgium, that will help you within a working day.