Once you've mastered CAD and CAM software to design your parts and prepare your G-code for milling, you need to familiarize yourself with a CNC control software for your machine.
There are a lot of different software out there. Some are free or open source, while others are linked to a specific control board. It may be hard to make a choice, so here is our comparison of the most used CNC control softwares and why we've decided to implement PlanetCNC on Mekanika's CNC milling machine.

Before diving deeper into the pros and cons of each software, we need to understand how a CNC milling machine is controlled. The electronics that control a CNC are basically composed like this:
Each axis is controlled by one or two motors ;

Each motor gets its instructions from a driver ;

A central breakout board sends instructions to the different drivers, based on the information it gets from a control software;

A control software, which is directly connected to the controller with a transfer protocol (usually USB or Parallel DB25). Except on industrial CNC machines, the control software is usually running on an external device like a computer.

When choosing a CNC control software, pay attention to the following:

The intuitiveness of the user interface;

The hardware you're using: type of controller + the type of device running the software program ;

The transfer protocol ;

The documentation provided with the software, the activity level of the community, as well as the frequency of software updates.;
PlanetCNC - Our favorite CNC software

Let's start with a software we consider to be one of the best options on the market s far:  PlanetCNC.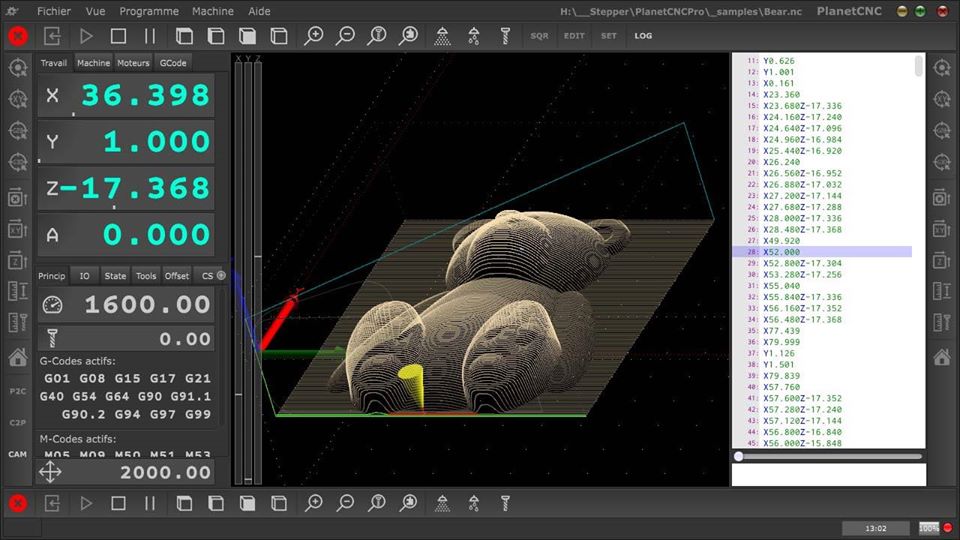 PlanetCNC comes with its own hardware. They have developed a single-board USB controller that allows up to four axes, and manufacture everything in Slovenia, Europe.
They offer many nice features out-of-the-box, like automatic tool length measure or tool change, and support all compensation methods for common milling operations, as well as 3D milling. The software runs on Windows, Linux or Mac and is compatible to almost all CAM programs on the market and can import a vast variety of files like Gerber, PLT/HPGL, DXF or NC files.
Why we chose PlanetCNC : 

When we started designing the Mekanika CNC machine, we tested several controllers and software and PlanetCNC came on top in terms of software stability and robustness of electronic components. Plus, it runs perfectly on a Raspberry Pi 4, which allowed us to create a standalone electronic enclosure without any need to use an external computer.

PlanetCNC has - to our opinion - the easiest to use interface that allow a quick taking in hands. It also has a handy G-code manipulation window that allows maximum flexibility. The user interface can also be customized.

All the needed features a CNC milling machine needs are offered, without unnecessary options making the use of the machine more complicated. It goes straight to the point.

The transfer protocol is USB, which is way more comfortable these days.

The software offers an API which allows to create applications on top of it.

Some custom features are very handy, like spindle control, video display or relay control.
Mach3 - The most popular

Mach3 is without any doubt the most popular software on the market so far.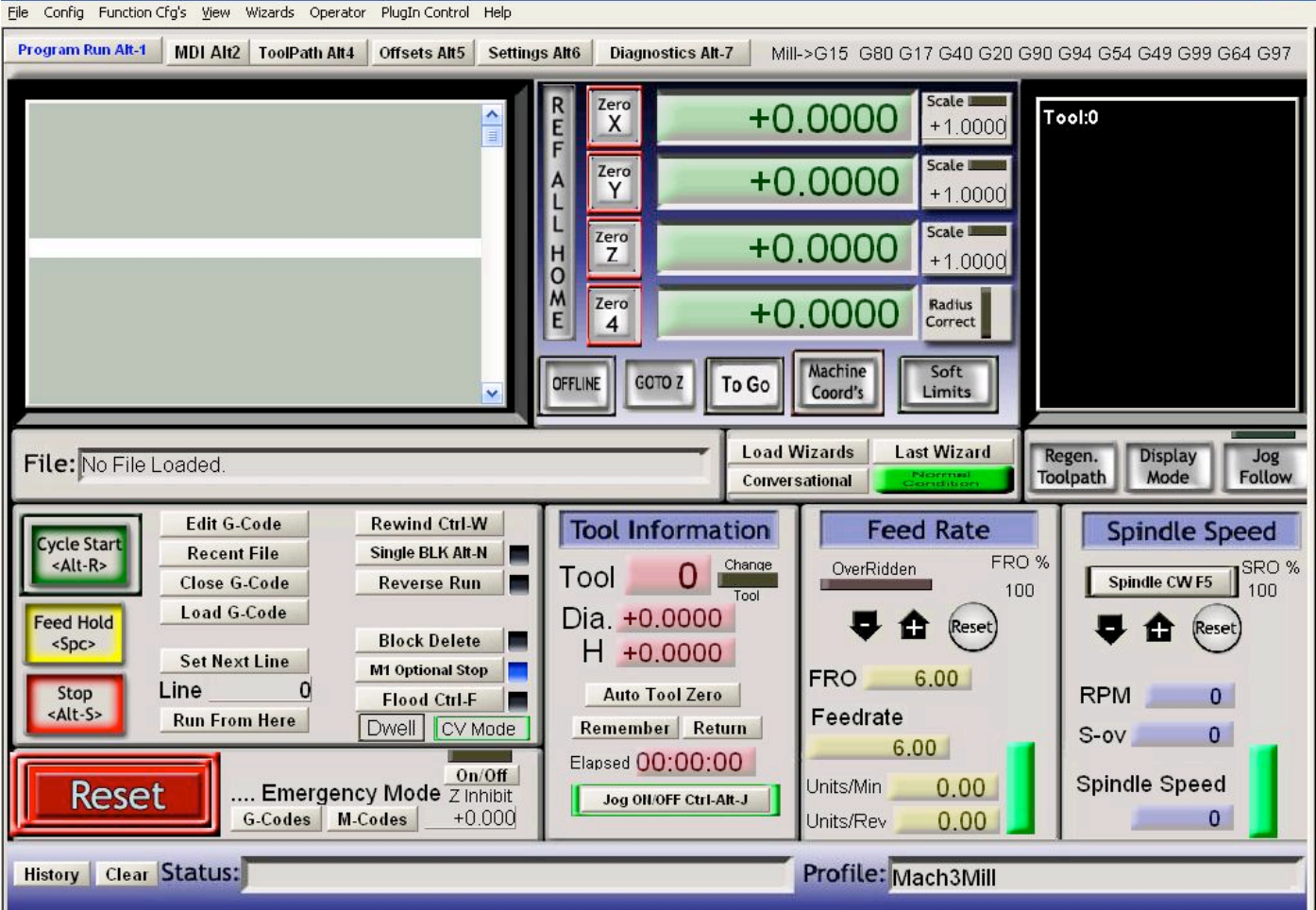 Mach3 is a control software compatible with many hardware solutions and has positioned itself as the market leader for low-end CNC control software. Its success is mainly historical, as it came in at a time when its interface was a lot more user-friendly than what existed on the market so far.
Pros
An easy-to-use user interface that still does the job, even if its design will make you feel like you're back in the '90s; 


The interface itself is highly customizable to adapt it to your needs;

As 70% of hobby CNC users uses Mach3, a lot of documentation is available online through its community of users.


Some custom features are very handy, like spindle control, video display or relay control.
Cons

Mach3 uses a parallel-port transfer protocol, which isn't compatible with most computers today.
Note : Artsoft has since developed Mach4, which they claim to have begun from scratch and have solved almost all gaps of Mach3, but struggle to make their community switch from Mach3 to Mach4.
LinuxCNC - Free open source CNC software

The "father" of all low-end CNC software, created in 1993, is a free open source Linux software. Most further control software - like Mach3 - have based their original code on the LinuxCNC project.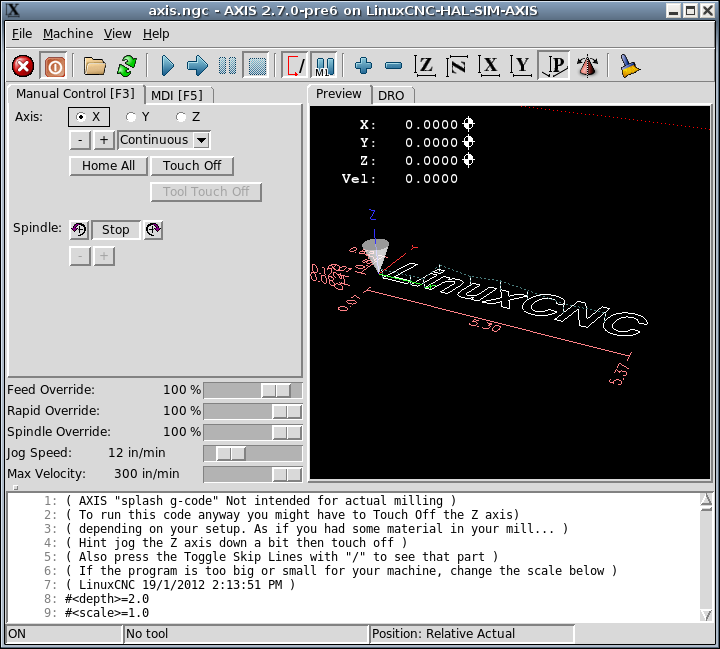 The project benefits from a huge open source community that has developed several versions of the software and has contributed to the fact that it's still the second most used CNC control software today.
Pros
As numerous persons have worked on this software, it offers a huge flexibility. It may, however, be confusing for some beginning CNC milling or looking for a compact software without unnecessary options; 


The community of LinuxCNC offers a lot of help to newcomers and is almost always able to solve issues.

The features and possibilities of LinuxCNC are almost endless, but the learning curve is also important.
Cons

The software may seem overwhelming at first;

As a real-time application, it runs on parallel transfer and doesn't support a USB-parallel adapter, which is hard to use on modern computers;

It's quite complicated to adapt the user interface to your needs.
GRBL + USG
Technically speaking, GRBL is a CNC control software, but it doesn't come with a user interface. It is actually an open source software that allows microcontrollers like Arduino to receive G-code from a computer, through USB transfer.
It is usually combined with a G-code sender software that allows the user to transfer G-code to the Arduino. One software has been sailing through the multitude of available software : the Universal G-code Sender.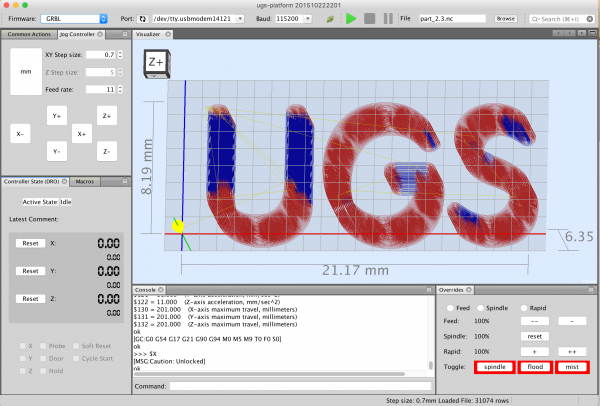 Pros :

Arduino is a well-known microcontroller and it's quite easy for DIYers to build a homemade CNC with the GRBL system;

It's the easiest set up for small and homemade CNC machines;
The software is free, and comes with cheap hardware;

You can choose your favourite software to generate G-code.
Cons : 
Arduino cannot handle huge works and complex milling actions;
This setup can quickly become a bottleneck for your system.
Flashcut
Flashcut CNC is an American software developed as an integrated CAD, CAM and CNC control solution. It is Windows-based and runs with its own integrated hardware.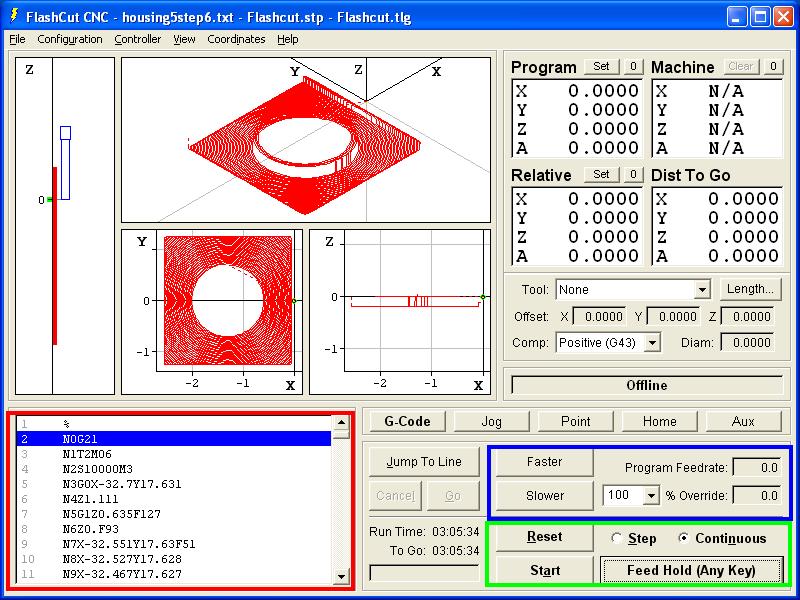 Even while FlashCut comes only as the sixth most used CNC control software with less than 2% of market shares, it still is a reference for the robustness of its solution and is more oriented towards professional users than hobbyists.
Pour : 

It comes with its own hardware which turns out to be quite stable.
The transfer protocol used by CNC Flashcut happens through USB.
Contre :

It runs only on Windows, so no possibility to develop a standalone system based on a Raspberry Pi.
As PlanetCNC, the solution is more expensive than hobbyist solutions, but there's a reason for it.
Conclusion - What is the best software for CNC programming?

There is no easy answer. The best choice of software will vary depending on what you intend to do with it, as well as what you already know on the topic of CNC milling.
If you're building your own machine, there's a good chance you need to carefully pick your software based on the hardware you're going to use.

If you're buying a machine, check the compatibility of this machine with the software you want to use.

If you want infinite flexibility and are not afraid with a huge learning curve, go for LinuxCNC. 

If you want good flexibility but don't care too much about user experience, go for Mach3. Pay attention to your hardware and computer compatibility with parallel transfer.

If you want to focus on stability and user experience to focus on your work, go for PlanetCNC.
About Mekanika

Mekanika is a Belgian startup based in Brussels whose ambition is to make local production more accessible. We produce desktop machines for screen printing and CNC milling, which have been recognized for their quality and ease of use, with open source plans allowing makers to adapt their tools to their specific needs. 
Visit our shop to find out more, or check out our tutorials to continue learning.